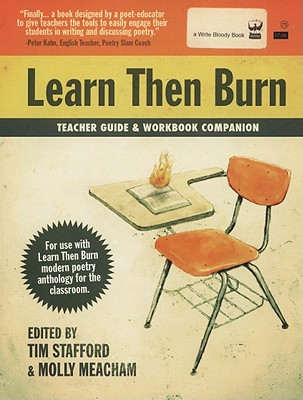 Learn Then Burn Teacher's Manual (Paperback)
Write Bloody Publishing, 9781935904014, 125pp.
Publication Date: March 3, 2011
* Individual store prices may vary.
Description
"It is vital for educators to discover new ways to get students wanting to read and write poetry. These exercises are not intimidating, they are the equivalent of having a really rad English teacher who wears tweed suits and sports "read more" knuckle tattoos." -Rachel McKibbens, "Pink Elephants" "This collection provides teachers with a scaffolding for their lessons by offering questions, examples, and writing prompts. This will be a valuable asset in the classrooms of new and veteran teachers alike." -Molly Meacham, teacher Hello teachers We know you work hard. Besides ninjas, you have the hardest job in the world. Between the teaching, the testing, the grading, and the nurturing it's difficult to seek out new materials for your classroom. We are here to help. As poets and teachers, we know the power of the spoken word in the classroom. All you have to do is attend a youth slam or find a clip of one online and you will see the positive impact modern poetry has on our young people. It is able to engage students from any background in a way that classical poetry simply cannot touch. A complaint we've heard from many teachers is that they would love to use spoken word in their classrooms but they are afraid of getting in trouble with rough language and themes. So behold We asked some of the best contemporary spoken word and slam poets to give us poems that would be appropriate for the classroom.