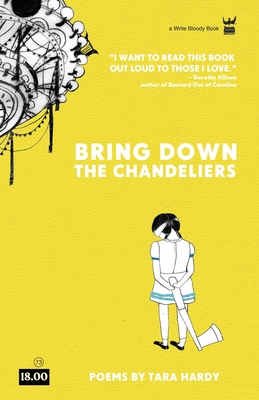 Bring Down the Chandeliers
Paperback

* Individual store prices may vary.
Description
Tara Hardy is a father-daughter incest survivor. In these poems you will find sex and survival turned inside out, offering fresh perspective on what it means to be counted among the wounded. Where we expect to find liability, we find muscle. Where we expect to find numbness, we find thirst. Bring Down the Chandeliers is an exploration of trauma, body and faith. It is also an inquiry into forgiveness. As such these poems are not just for sexual assault survivors; they are for anyone who has struggled to forgive oneself and/or one's trespassers. They are for anyone making a life in the midst of aftermath. Tara Hardy is, as Dorothy Allison claims, "The real deal. Passionate, brave, gifted, insightful, dead-on in language and craft." Find yourself strangely hopeful amid her explorations of addiction and justice. Consider your own compass as she navigates body, as she confronts sex as the site of what was both stolen and returned. Find a surprising bit of yourself in a story may not be yours, but in which you're invited to grapple with your own vulnerabilities and strengths. Walk away with a more intricate understanding of your own humanity.
Write Bloody Publishing, 9781935904304, 85pp.
Publication Date: September 15, 2011
or
Not Currently Available for Direct Purchase