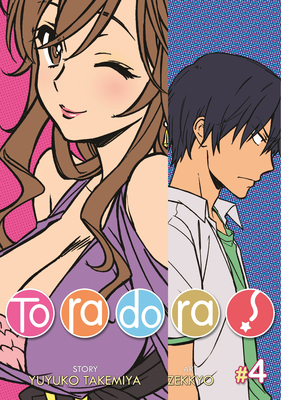 Toradora!, Volume 4 (Paperback)
Seven Seas Entertainment, 9781935934172, 192pp.
Publication Date: April 10, 2012
Description
Ryuji Takasu thought that his ill-fated luck had turned around now that he was in Junior High sitting next to the girl of his dreams, Minori Kushieda. Ryuji was wrong; for after unwittingly crossing the most feared and fearsome girl in school, Taiga Aisaku, everything went off the deep end
It's taken time, but Ryuji and Taiga have slowly found some common ground and can at least tolerate each other (just a little). The problem is, Fate just doesn't seem to throw Ryuji a bone. Everyone in Ryuji's class is now convinced that he and Taiga are dating" "even Minori And to make matters even more embarassing, Minori has given Ryuji and Taiga her blessings. How's Ryuji ever going to win Minori's heart now?
About the Author
Yuyuko Takemiya is a Japanese writer of light novels. She is the author of Watashitachi no Tamura-Kun.Zekkyo is a Japanese manga artist and illustrator whose works include Druid-San, Welcome and Jyutten!
Praise For Toradora!, Volume 4…
Praise for the Toradora! anime:
"A genuine, nuanced tale about friendship, love and family, pretty much unrivaled by its contemporaries." —ANIME DIET
"Toradora! is a lot like it's subject matter: In turns hilarious, rambling, confused, charming, and foolish, but ultimately a worthwhile and heartwarming experience" —ANIME-PLANET
Advertisement