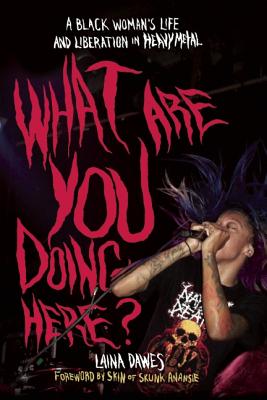 What Are You Doing Here?
A Black Woman's Life and Liberation in Heavy Metal
Paperback

* Individual store prices may vary.
Description
Laina Dawes is not always the only black woman at metal shows, and she's not always the only headbanger among her black female friends. In her first book, the Canadian critic and music fan questions herself, her headbanging heroes, and dozens of black punk, metal, and hard rock fans to answer the knee-jerk question she's heard a hundred times in the small clubs where her favorite bands play: "What are you doing here?"
Praise For What Are You Doing Here?: A Black Woman's Life and Liberation in Heavy Metal…
"In her debut book, music journalist and hardcore metal devotee Laina Dawes uncovers black women's voices and stories of participation in punk and metal."Vice
"How exciting is this? The book tackles the good, the bad and the ugly sides of being a black woman in the metal and punk scenes."Afropunk.com
"A fantastic book"AOL Noisecreep
"Thoughtful and inspiring"Publishers Weekly
"Dawes uses her sociological smarts to remind us that metal isn't just disenfranchised white dudes' music... it's a way for all of us on the outside to feel the power."Revolver [4/5 stars]
"Excellent"About.com
"Essential reading for those who have never felt the blow of intolerance, and for those who have felt it far too often...its themes are universal"PopMatters
"As the title suggests, Dawes has a compellingly idiosyncratic tale to tell about cultural identity and personal passion[her] understandable difficulty is precisely what makes her struggle interesting."The Atlantic
"Dawes has done the metal scene a great service...an important addition to every metal fan's bookshelf"MSN.com
"Laina Dawes' What Are You Doing Here? is a strikingly more powerful, penetrating, and passionate look at metal than the one written by the guy [Tony Iommi] who arguably invented the genre...brave, engaging, and unique"The Onion A/V Club
"While the book is extensively researched and brings in a broad array of opinions from musicians, fans and academics, the most resonant moments can be found within Dawes' own history."Spinner
"Insightful and provocative."NOW Toronto
"The book is half love letter to both black women who have paved the way and continue to pave the way, as well as the music that brought them there, and half unflinching real talk of the all unfortunate actualities of the casual to the not-so-casual racism that is embedded with the scene."Persephone Magazine
"This book needs to be mandatory reading for every new metal head."Metal Army America
"A wonderfully intimate memoir...critical insight abounds"Philadelphia City Paper
The women presented in What Are You Doing Here? are courageous, honest and without pretensejust like the best metal that ultimately unites them."Albert Mudrian, editor-in-chief, Decibel
"An intriguing reminder of how much we all want, need and deserve to belong to something that stimulates and validates us."Terrorizer
"Dawes tells an important story well and gives voice to the many black girls and women who are brave enough to let themselves be different."LEO Weekly
"She presents metal as a source of joy, an outlet for negative emotions, a physical release and catharsis. It is also an opportunity to embrace something that Dawes, and the women she interviews, love intensely, and therefore is also the narrative of the triumph of truth and happiness over the pressure of public perception."Toronto Standard
"Dawes brings a lot of experience, clear and concise writing and good journalism, and while she doesn't have any long-term solutions for bridging these deep and unfortunate valleysthrough no fault of her ownshe has still introduced the first step, which is opening our eyes and starting a dialogue."SLUG
Bazillion Points LLC, 9781935950059, 224pp.
Publication Date: January 8, 2013
About the Author
Laina Dawes is a music and cultural critic and opinion writer from Toronto, Canada. She is an active public speaker and contributor to CBC Radio, current affairs columnist for Afrotoronto.com, and contributing Editor (for race, ethnicity and culture) for Blogher.org.

Skin formed Skunk Anansie in 1994, releasing the albums Paranoid and Sunburnt, Stoosh, Post Orgasmic Chill, Wonderlustre, and Black Traffic. She has provided vocals for albums by Sevendust, Tony Iommi, and a number of soundtracks. Skin is also a DJ, and she currently resides in London.