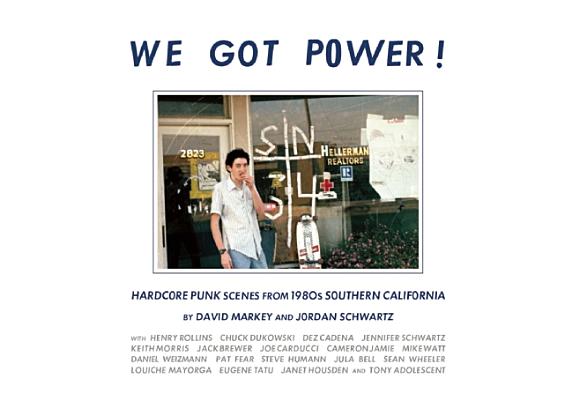 We Got Power!
Hardcore Punk Scenes from 1980s Southern California
Hardcover

* Individual store prices may vary.
Description
In 1979, punk was over . . . but by 1981, hardcore was born. As teenagers in 1981, David Markey and his best friend Jordan Schwartz founded "We Got Power , " a fanzine dedicated to the first-generation hardcore punk music community in their native Los Angeles. Their text captured the early punk spirit of Black Flag, the Minutemen, Social Distortion, Suicidal Tendencies, and Husker Du at the height of their powers. Meanwhile, their amazing photographs captured the dilapidated houses, abandoned storefronts, and disaffected youth culture of the early Reagan era. Never before seen, except in crude fanzine form, these detailed and richly narrative photos are now collected to present an intimate document a uniquely fertile creative moments.

Praise For We Got Power!: Hardcore Punk Scenes from 1980s Southern California…
Essential reading...the funniest of the local mags"Matt Groening, 1983

The book is a wonderful document of something that has continuity and lasts, the stuff that matters. It's the finding of a voice of a generation."Chuck Dukowski

"Vital to understanding the birth of American punk rock...an essential addition to the history of a movement"Los Angeles Times

"Celebrating the hardcore punk scene of 1980s Southern California... a new book by zine gods David Markey and Jordan Schwartz"LA Weekly

"One of the most thorough and lush compendiums of any punk movement"Dangerous Minds

"There are no rose-colored glasses, zero phoned-in memories, and no homogenized takes; gritty, raw, and real as real can get is the tone delivered on every page."Metal Army America

"This is a book of human stories, funny and sad and tragic It offers a reminder that what separates the heroes from the burnouts can be just a stroke of luck, or a twist of fate."The Wire

"Absolutely stunning"Creative Loafing

"Stunning and beautiful"AP

"South California's punk explosion recorded in style... the introductory allegorical essay by Henry Rollins himself is a fascinating insight, setting the tone for a scene dead set on its own destruction."Classic Rock

"A yearbook for SoCal dropouts who changed the world."Inked

"A seriously impressive collection of hardcore punk alumni"Terrorizer [5/5 stars]

"[We Got Power!] made an impact on the hardcore punk scene that is still being felt today... A document of bands and people who would go on to be legends in one way or another."Maximum Rocknroll

"A fearless mix of insight and irreverence...beautifully produced...you'll be inspired"RTE (Radio-TV Ireland) [5/5 stars]
"A history lesson for the novice and nerd alike, packed to the spine with pictures and essays that will blow the mind and flare the nostrils"AOL Noisecreep

"The pair's gritty, deadpan photos captured the bands, DIY venues, and SoCal vagrants that would eventually define an entire subculture...stunning"The Fader

"Hundreds of gloriously candid photographs meticulously curated and fantastically edifying."Decibel

"The true, on-the-ground account... essential"Metal Hammer [UK]

"The stark, often beautiful imagery presents an intimate portrayal of West Coast punk in the late 70s and early 80s. With the accompanying personal reminiscences of turmoil and tenacity, which add depth and evocative context, it is a fantastic document of the scene's emergence."PopMatters

"Phenomenal... Essential reading."Bakersfield Californian

"Reports from the frontlines of the huge and thriving Los Angeles scene...with first-hand accounts from some of its biggest luminaries"VH1

"We Got Power! gives a great impression of the scene's liveliness, the fans' intense devotion to the music, the audience's intimacy with the performers and the excitement of being part of something new."Los Angeles Review of Books

"[An] entertaining trip back in time... funny and enthusiastic."Chicago Reader

"A super interesting take on the Southern California hardcore scene... Henry Rollins piece on the late Kim Pilkington is one of the best and most heartfelt things he's ever written."Byron Coley, Arthur Magazine
"An easy-to-digest scrapbook of candid photos and unbelievable tales from an indelibly interconnected group of friends reminiscing about the crazy, spastic, possibly drug-addled moments when hardcore peaked."The Long Beach Post

"An intimate portrayal of the early hardcore movement."Rebel Ink Magazine

"To flesh things out, the book integrates essays from scene participants like Henry Rollins, Keith Morris, Mike Watt, Joe Carducci (SST), Vandal's Steve Human, Tony Reflex of Adolescents, and other artists, filmmakers, players, scenesters, and members of Black Flag."Pitchfork

"Amazing! Get it if you have any interest in Californian punk and hardcore!"Daniel P. Carter, BBC Radio 1 Rock Show

"The essays are sometimes anecdotal, sometimes reflective, but never maudlin. And photographsnearly 400 of them, hard-boiled and loving simultaneouslycapture the decrepit L.A. landscape and its wasted youth"LA Record

"A nostalgic trip through the past for those who lived it, but an anthropological case study of a lesser-known subculture, and quite simply, a work of art"The Los Angeles Beat
Bazillion Points LLC, 9781935950073, 288pp.
Publication Date: October 30, 2012
About the Author
DAVID MARKEY was born December 3, 1963, in Burbank, CA. He made his first film at the age of 11 and published a neighborhood newspaper at 12. In 1980, he became involved in the local underground music scene. He helped form Sin 34 in 1981, and captured the punk scene in the Super 8 film "The Slog Movie." Markey was a part of "We Got Power" fanzine from 1981 to 1983, then kept the name alive through his We Got Power Films. He cowrote and directed "Desperate Teenage Lovedolls" in 1984. He photographed, edited, cowrote, and directed "Lovedolls Superstar" in 1986. Also that year, his band Painted Willie toured with Black Flag for six months, a period depicted in his film "Reality 86 d." Later, he traveled with Sonic Youth and Nirvana across Europe to make "1991: The Year Punk Broke." Markey has directed music videos for Meat Puppets, fIREHOSE, Shonen Knife, Mudhoney, and Pat Smear, and collaborated with visual artists Cameron Jamie, Raymond Pettibon, and Kim Gordon. In 2005, he accidentally discovered he was adopted, leading to work on the autobiography Dark Circles. Markey directed the documentaries "The Reinactors; Dinosaur Jr. Bug (Live) at 9:30"; and the Circle Jerks film My "Career as a Jerk."

JORDAN SCHWARTZ met David Markey while skateboarding in a flooded Santa Monica parking garage in 1979. As they discovered the growing Los Angeles hardcore punk rock scene, Jordan teamed up with David, his sister, Jennifer, and Alan Gilbert to found "We Got Power" magazine. Jordan contributed in many roles, including that of staff photographer. Jordan had producing and acting roles in "Desperate Teenage Lovedolls" and the sequel, "Lovedolls Superstar," notably appearing as the rock star Brews Springstein. Jordan facilitated the release of three "Black Flag" skateboards featuring original artwork by Raymond Pettibon. In 1984, Jordan began working and living at SST Records Global Network Agency booking gigs and tours for various high-profile bands on and off of the label during the pioneering years of the U.S. independent scene. In 1988, Jordan began a career working with computers connected to the Internet. He lives in Santa Monica with his wife and dog, still hangs out at Rip City on the weekends, and makes it to local gigs.

"