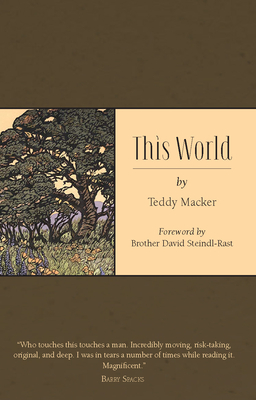 This World
Paperback

* Individual store prices may vary.
Description
In the lucid, melodic, various poems of This World, Teddy Macker returns us to the great mystery all around us, a mystery we so easily forget, the mystery of trout, the mystery of orchard, the mystery of our beautiful human bodies. Within these pages, Macker also chronicles the journey inside the whale, telling us not just of fear and trembling but also of the magnificent harps only found in the belly of the beast. By turns ecological, erotic, compassionate, and mystical, these poems return us to;this world, the kingdom we've been looking for. The phrase "this world" appears over and over in the book, as Macker intentionally returns to his core idea--praise for earthly experience . . . his voice on the page is hushed not a holler...speaks lovingly and joyously about most all of life...with his moving language, he reinvigorates old subjects.--Orion Magazine
White Cloud Press, 9781935952398, 84pp.
Publication Date: June 9, 2015
About the Author
A poet and orchardist, Teddy Macker lives with his wife and two daughters on a small farm in Carpinteria, California. His writing appears widely: the Antioch Review, Columbia, New Letters, Orion, Resurgence & Ecologist, The Massachusetts Review, Tin House, The Sun, and various anthologies. Among his honors is the Reginald S. Tickner Creative Writing Fellowship of the Gilman School in Baltimore. He lectures in the College of Creative Studies at the University of California, Santa Barbara. Born in Vienna in 1926, Brother David Steindl-Rast has been a practicing Benedictine monk for over sixty years. Seen by many to be the successor to Thomas Merton, Brother David was one of the first Vatican-sanctioned delegates to participate in Buddhist-Christian dialogue. His Zen teachers included Hakuun Yasutani Roshi, Soen Nakagawa Roshi, Shunryu Suzuki Roshi, and Eido Shimano Roshi. A recipient of the Martin Buber Award and senior member of the Mount Saviour Monastery in Pine City, New York, he is the author of numerous books, including the classics of spirituality The Ground We Share and Deeper Than Words.