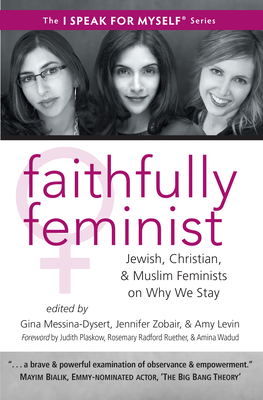 Faithfully Feminist
Jewish, Christian, and Muslim Feminists on Why We Stay (I Speak for Myself #6)
Paperback

* Individual store prices may vary.
Description
"Why do you stay?" It is a common question women are asked in relation to their faith. These are not women who buy into Candace Cameron's biblically submissive theory; rather, these are women who claim a feminist identity, have membership in a particular religious tradition, and practice their faith in spite of gendered challenges. In Faithfully Feminist 15 Christian, 15 Jewish, and 15 Muslim women share their stories of struggle and faith. In a world where women's issues are political issues, women are judged for their positions in relation to their claimed identities. Feminists argue that you cannot be a "true" feminist if you are a practicing Christian, Muslim, or Jew. Likewise, religious practitioners claim that you cannot be a "true" Christian, Muslim, or Jew if you support feminist values. Nevertheless, women who practice these religious traditions and hold feminist values are not uncommon, and the question "Why do you stay?" is one that is frequently asked of them. Faithfully Feminist is the sharing of stories, encouraging other women, and acknowledging that being feminist doesn't mean giving up on your faith.
White Cloud Press, 9781935952480, 264pp.
Publication Date: September 8, 2015
About the Author
Gina Messina-Dysert, Ph.D. is Dean of the School of Graduate and Professional Studies at Ursuline College and Co-Founder of FeminismAndReligion.com. She is the author of Rape Culture and Spiritual Violence and can be found on Twitter @FemTheologian. Jennifer Zobair is an attorney and a writer. She is the author of the novel, Painted Hands (St. Martin's Press), and her essays on Muslim women and feminism have appeared in The Rumpus, The Huffington Post, The Feminist Wire, and elsewhere. She is a columnist for The Muslim Observer and is the founder of the website story and chai, a creative space for readers and writers of Muslim and culturally diverse narratives. Jennifer lives with her husband and three children outside of Washington, D.C. Amy Levin is a Jewish feminist, activist, writer, and aspiring psychotherapist. She holds a Master's in Religious Studies from NYU and is an MSW candidate at the University of Pennsylvania's School of Social Policy and Practice. She worked as a political organizer for Organizing for America and J Street, and has written publicly on the intersection of religion, gender, and social justice for publications such as The Revealer and Feminism and Religion. Connect with her on Twitter @levinam. She lives in Brooklyn, NY.