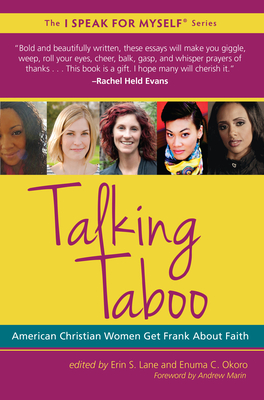 Talking Taboo (Paperback)
American Christian Women Get Frank about Faith (I Speak for Myself #4)
White Cloud Press, 9781935952862, 264pp.
Publication Date: October 29, 2013
* Individual store prices may vary.
Description
American Christian Women under 40 are being theologically trained in unprecedented numbers, accessing leadership in their communities through both orthodox and unorthodox avenues, and balancing the roles of professional, wife, mother, girlfriend, and friend. With all of the perceived progress, why do they feel like their young voices still aren't being heard? And if they found the courage to speak, what would they want to say? The latest book in the I Speak For Myself series addresses the experiences of faith, gender, and identity that remain taboo for American Christian Women Under 40. Is it our desire to remain childless in a Catholic tradition that largely defines women by their ability to reproduce? Is it our struggle with pornography in an evangelical subculture that addresses it only as the temptation of unsatisfied men? From masturbation, miscarriage, and menstruation to ordination, co-habitation, and immigration, this collection of essays explores the most provocative topics of faith left largely unspoken in 21st century American faith life. For women and their partners, faith leaders and their members, historians and their students, this book documents the voices of young Christian women and their refusal to be silent any longer.
About the Author
Erin Lane, M.T.S., is a communication strategist for faith-based authors and organizations. Her latest work with national and local nonprofits combines her background as a book publicist with broader marketing consultation and program development for clergy and congregational leaders. Confirmed Catholic, raised Charismatic, and married to a Methodist, she blogs about the intersection of her faith and feminism at holyhellions.com. Enuma Okoro is an award-winning author, speaker and spiritual director. Embracing the classic spiritual traditions, the contemporary arts, and her uniquely diverse global and cultural background, Enuma writes and speaks off of three key areas: 1. Spiritual formation, growth and holistic wellness 2. Women and the transformative power of personal narratives 3. Identity and Belonging in a diverse world. Her work has been featured on ABC's Good Morning America, The Huffington Post, NPR, and The Michael Eric Dyson Show. Visit Enuma at enumaokoro.com.