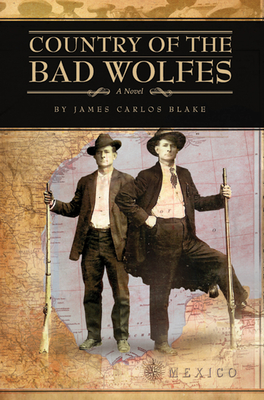 Country of the Bad Wolfes
Paperback

* Individual store prices may vary.
Other Editions of This Title:
Paperback (11/17/2020)
Paperback (2/26/2015)
Description
A page-turning epic about the making of a borderland crime family, Country of the Bad Wolfes will appeal both to aficionados of family sagas and to fans of hard-knuckled crime novels by the likes of Donald Pollack, Elmore Leonard, James Lee Burke and James Ellroy. Basing the novel partly on his own ancestors, Blake presents the story of the Wolfe family -- spanning three generations, centering on two sets of identical twins and the women they love, and ranging from New England to the heart of Mexico before arriving at its powerful climax at the Rio Grande. Begat by an Irish-English pirate in New Hampshire in 1828, the Wolfe family follows its manifest destiny into war-torn Mexico. There, through the connection of a mysterious American named Edward Little, their fortunes intertwine with those of Porfirio D az, who will rule the country for more than thirty years before his overthrow by the Revolution of 1910. In the course of those tumultuous chapters in American and Mexican history, as D az grows in power, the Wolfes grow rich and forge a violent history of their own, spawning a fearsome legacy that will pursue them to a climactic reckoning at the R o Grande. A master of the historical novel, James Carlos Blake has been hailed as "a poet of the damned who writes like an angel" (Donald Newlove, Kirkus Reviews). Library Journal says of Blake's latest novel that it is brawling, high-spirited, and superbly realized ... this novel offers many pleasures, including endearing characters, unlikely love stories, and all manner of mayhem. James Carlos Blake was born in Mexico and grew up in Texas and Florida. He is the author of nine other novels and a collection of short works. Among his literary honors are the Los Angeles Times Book Prize, the Southwest Book Award, and the Falcon Award.

Praise For Country of the Bad Wolfes…
"James Carlos Blake is an American prose-hero, and writers of the western inclination have been stealing him blind for years. Get this book. You won't be sorry." Luis Alberto Urrea, author of The Hummingbird's Daughter, Queen of America and Mr. Mendoza's Paintbrush

Blake's boisterous tenth novel unspools an epic filial tale, detailing the confluence of Mexico's ill-starred destiny with the fate of an Irish-British-American family so thoroughly accursed that it seems almost inevitable that the clan should become Mexican A multigenerational saga [with] wonderfully drawn characters A natural yarn-spinner Blake excels in gorily choreographed fight scenes [and] while [he] keeps you immersed in his wildly picaresque tale, he slowly reels in the novel's dark take-home: it doesn't matter if your distant ancestry is pre-Columbian or Hibernian, Aztec or Iberian. Sooner or later, it'll catch up with you." John Phillip Santos, Texas Monthly

A great read from start to finish, full of grit, local color, and a large cast of vibrant characters this brawling, high-spirited, and superbly realized family saga offers many pleasures, including endearing characters, unlikely love stories, and all manner of mayhem. Highly recommended for fans of literary fiction." Library Journal

"A rollicking tale that acquires depth as it moves across generations and national boundaries Blake doesn't mind a boudoir but his real strengths come in describing manly mayhem, which he portrays with uncommon poetry [With] Cormac McCarthy's tutelary spirit [and] soupçons of Garcia Márquez the book keeps good company full of wry humor and thoughtful writing." Kirkus Reviews

Murder, politics, and illegitimate children fuel this engrossing and wonderfully realized saga." Publishers Weekly

This is historical fiction in the manner of Umberto Eco many-faceted, slow, and savory." Booklist

"Over the years, Blake has often been compared to Cormac McCarthy, mainly because both writers often use Mexico as setting and symbol and both are known for focusing on aspects of the human attraction to violence. Blake delivers on both in Country of the Bad Wolfes ... [which] is the first of a rumored series of books about the big bad Wolfes. This first book will lead many readers to look ahead anxiously for the next one's appearance."—Southwestern American Literature
Blake has a sure-handed grasp of 19th western US history and culture that is every bit as engaging and authentic as say, Cormac McCarthy and Guy Vanderhaeghe and Jim Harrison [A] skillful and astute narrative an enthralling tale." Robert Birnbaum, Our Man in Boston

[I]mbued with the magical realism of García Márquez [and] the frontier brutality of Cormac McCarthy Blake's story will entertain fans of historical and adventure novels alike." Shelf Awareness

[A] sprawling, magnificent story of three generations of men, their fortunes, loves and losses, during a fascinating time in the history of the United States and Mexico." Bookworks

Spanning three generations, [Blake] spins the tale of a family cursed by twin passions.' Some in the Wolfe clan are in thrall to the passions of the flesh,' others to a passion for risks of blood,' and many are damned by both.' Love and violence rule the day, and are parceled equally between the sexes Country of the Bad Wolfes is an engrossing novel." Texas Observer

"[A] sprawling saga Blake's knowledge of the history and particulars of the periods and places where the account takes place reveals close research and almost encyclopedic knowledge, especially in small details his [is a] prodigious talent " Dallas Morning News

Blake's literary badlands are uniquely his own crime novels set in well-researched historical settings that manage to avoid crime-fiction clichés ." GQ

The book is trademark Blake with rogue heroes, duels, and demons and angels of human nature locked in a violent dance with one another. It's a look at the United States and Mexico and the bloodshed, politics, and history that lies between the borders As a whole, James Carlos Blake's work has the feel of lived-in legend. It's a collection of old folk ballads singing to a new present. And I highly recommend you listen Country of the Bad Wolfes tells us the best is yet to come." Scott Montgomery, MysteryPeople

A literary page-turner a romantic, violent, panoramic historical saga (written) with a journalist's eye for detail and a poet's love of words a fascinating read." San Antonio Express-News

[A] beautifully crafted book rich in historical detail and featuring memorable characters takes the historical novel to an entirely new place an exceptional piece of modern fiction." Tucson Citizen

"This is the masterwork that Blake has been working on for years. Don't be intimidated by the book's epic, multi-generational scope either. You'll be absolutely riveted from the first page Full of fascinating history, the Wolfe family saga is ribald, raunchy and essential reading don't miss it." Patrick Millikin, Poisoned Pen

[In] a story of power and what will be done to keep it, James Carlos Blake puts together a historical novel packed cover to cover with intrigue a fine and much recommended addition to any historical fiction collection." Midwest Book Review

[A] worthy book Country of the Bad Wolfes is a poetic ... offspring of Gabriel Garcia Márquez and Cormac McCarthy. The Wolfe family is said to be cursed by 'passions of the flesh' and 'risks of blood' ... 'a curse like a ready noose around the neck of every Wolfe.' In the end, it is the quick, thoughtless choices of flawed men, women, leaders and nations that cause suffering, violence and early death. For Blake, it seems, we are all cursed with that noose around our neck." Tucson Weekly

"[A] sweeping family saga [of] adventuring and philandering, smuggling and murdering and politicking in early-1900s Mexico and the borderlands... Blake not only weaves a good fireside yarn, he produces a strong literary tale too. [He] expertly plays with form, changing verb tense and perspective occasionally, slipping back and forth through time and place as though from string to string on a guitar neck.... [And] the women in this novel are also strong, smart, and funny ... men's equal in Wolfe country." Rain Taxi

"[A] wild tale of family, twins and politics. ... [with] Hemingway-like descriptions.... You won't want to put this one down until it's over. ... The Wolfes are a lively bunch ... that make Zorba the Greek look dull.... The book is not for the weak-hearted, or the highly Moral. It will make you squirm a bit, no matter how open-minded or tough you think you are. It is a violent book ... of turbulent times ... [but] there is beauty and love, and antics of a high-spirited family. It is exciting and rewards an intellectual curiosity about how things work, how the world changed, how history is interpreted. You will want the read all of Blake's books. Bravo. "Helium
Cinco Puntos Press, 9781935955030, 456pp.
Publication Date: January 31, 2012
About the Author
James Carlos Blake was born in Tampico, Mexico, and grew up in Brownsville, Texas, and Florida. He is the author of nine novels and a collection of short stories. His novel In Rogue Blood won the Los Angeles Times Book Prize for Fiction in 1997. Entertainment Weekly calls Blake "one of the greatest chroniclers of the mythical American outlaw life."
or
Not Currently Available for Direct Purchase