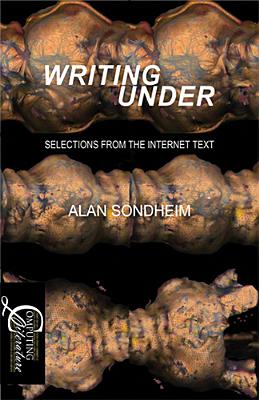 Writing Under
Selections From the Internet Text
Paperback

* Individual store prices may vary.
Description
Alan Sondheim's Writing Under explores and examines what happens to writing as it takes place on and through the networked computer. Sondheim began experimenting with artistic and philosophical writing using computers in the early 1970s. Since 1994, he has explored the possibilities of writing on the Internet, whether using blogs, web pages, e–mails, virtual worlds, or other tools. The sum total of Sondheim's writing online is entitled "The Internet Text."  Writing Under selects from this work to provide insight into how writing takes place today and into the unique practices of a writer. The selections range from philosophical musings, to technical explorations of writing practice, to poetic meditations on the writer online. This work expands our understanding of writing today and charts a path for writing's future.
Praise For Writing Under: Selections From the Internet Text…
"Alan Sondheim is one of the precious few who joyfully-and in abject misery-risks these terrors of writing for us, for our pleasure and our undoing. What happens? Language disposes of us. As if that were not all that is required of any writer, Alan Sondheim is also the poet, the artist, the maker who has most profoundly immersed himself and his work in the life-changing code-forms-of networked computation-that have the world and its 'genesis redux' in their grip."
John Cayley, Literary Arts, Brown University
Center for Literary Computing, 9781935978732, 216pp.
Publication Date: December 1, 2012
About the Author
Alan Sondheim is a Brooklyn-based new media artist, musician, writer, and performer. He is concerned with issues of virtuality, and the stake that the real world has in the virtual.