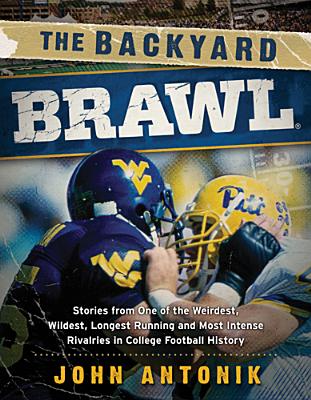 The Backyard Brawl (Paperback)
Stories from One of the Weirdest, Wildest, Longest Running, and Most Instense Rivalries in College Football History
West Virginia University Press, 9781935978824, 352pp.
Publication Date: September 1, 2012
* Individual store prices may vary.
Description
The West Virginia University Mountaineers and the University of Pittsburgh Panthers, separated by less than eighty miles of highway, have battled it out on the football field for more than one hundred years. Now, with Pitt announcing its departure from the Big East Conference to join the Atlantic Coast Conference and West Virginia becoming a member of the Big 12 Conference, this intense rivalry has come to an abrupt end. Thousands of players and dozens of coaches - some among the very best to ever play the game - have been a part of this famous series known as the "Backyard Brawl."  With fantastic tales about this feud's star-studded rosters, including  White, Slaton, Harris, Luck, Huff, Nehlen, and Rodriguez for West Virginia and Fitzgerald, Marino, Dorsett, Green, Majors, and Sherrill for Pitt, The Backyard Brawl celebrates the tradition, heritage, and pride of two outstanding universities. With unparalleled access, John Antonik, a 20-year West Virginia University athletic administrator and WVU alumnus, unearths the fascinating and humorous stories that make up this revered, colorful, and cherished football game-and more importantly, the great passion and pride these schools exhibit every time they take the field.
About the Author
John Antonik is Director of New Media for Intercollegiate Athletics, West Virginia University and author of "West Virginia University Football Vault: The History of the Mountaineers" and "Roll Out the Carpet: 101 Seasons of West Virginia University Basketball."