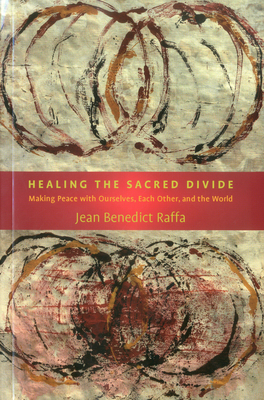 Healing the Sacred Divide (Paperback)
Making Peace with Ourselves, Each Other, and the World
Larson Publications, 9781936012602, 320pp.
Publication Date: June 16, 2012
* Individual store prices may vary.
Description
Healing the Sacred Divide is timely: As issues of faith and women drive our political dialogue at national and local levels, it offers a highly useful window into troublesome assumptions rarely recognized. Bringing these into the open can be enormously helpful for resolving conflict and promoting fruitful compromise between entrenched parties. Author Jean Benedict Raffa first explores eight common ways of thinking about God that create strife in ourselves and contribute to the rampant divisiveness in our world. She then helps us see (and work with) the emotional ignorance of this situation that spoils relationships--through distorting what we think "God" and others want of and for us. Raffa then invites us to entertain what she calls "an integrated God-image." She offers it as a basis from which to bridge differences and work creatively with fundamental dualities such as masculine/feminine, good/evil, relationship/individuality, heart/head, subjectivity/objectivity, experience/belief, mystery/clarity, etc. In the process she explores a variety of personal crises and political dysfunctions that arise from overemphasizing masculine ego-values in ourselves and our conception of God, and ways to overcome them by honoring feminine values equally. Doing so, she says, makes available "nine wisdom gifts" that offer a reprieve from unrelenting anxiety and guilt about never being good enough, and help us connect intimately with what feels truly sacred to us. From there, she suggests, we are in a much better position to make peace with ourselves and one another, and to contribute together to "humanity's noblest dream of universal peace, justice, and love.
About the Author
Jean Benedict Raffa is a former teacher, television producer, and college professor with a doctorate in Education from the University of Florida. In her late thirties she underwent a spiritual
Praise For Healing the Sacred Divide: Making Peace with Ourselves, Each Other, and the World…
Raffa (Dream Theatres of the Soul) posits that until modern religions stop overemphasizing the masculine and repressing the feminine, they will contribute to individual and societal dysfunctions. Deeply influenced by both her own spiritual journey and the work of Carl Jung, Raffa examines the evolution of God-images throughout history and the relationship between our God-images and the war being waged in our psyches "between two compelling needs: our need to preserve the self-images our egos have so carefully constructed and our need to transcend the limitations our egos have imposed." She explores eight common ways of thinking about God that create problems for individuals and communities before urging the reader to adopt an integrated God-image that reflects both feminine and masculine principles. She then lays out nine "wisdom gifts," such as emotional integrity, that derive from an integrated God-image. Through honoring the feminine, she ultimately argues, we come to the spiritual realization that there is unity in all of creation and we take the necessary steps toward healing ourselves and achieving universal peace, justice, and love. Well-researched, this is rich with personal stories and reflections and supplemented with meditations and exercises that help the reader explore her own consciousness." Publishers Weekly


"Raffa (Bridge to Wholeness), inspired, in part, by the writings of Carl Jung, attempts to show here how certain preconceptions about God (masculine, tribal, childish, "like us," gender-biased, external) have damaged us, our spirituality, and our relationship to the world. She suggests alternative understandings of God: holistic, light-giving, powerful, balanced, dialogic, and so on. Raffa's conception is powerful and subtle, and goes well beyond a simple female-based spirituality; her execution suffers a little from trying to be very accessible. VERDICT An important contribution to the continuing development of spirituality, bound to appeal to readers interested in gender roles, feminist approaches, and psychology."--Library Journal



"A compelling journey through the human psyche and soul, both deeply personal and universal. Jean has done a brilliant job of illuminating where we are, how we got here, and how we can transcend the polarization and loneliness of this time by reconnecting with the sacred in its fullest, richest expression."

Margaret J. Wheatley, author of "Leadership and the New Science" and others


"In a world where reversing the trend towards polarization in politics, religion, and the genders is rapidly becoming crucial to our survival, Raffa offers a refreshing middle way to healing. This path merges self with other, male with female, thinking with feeling, and belief with experience in a way that can be traveled by anyone. From a perspective formed by Jungian psychology and personal experiences with organized religion, Raffa clarifies the core issues and suggests solutions in a unique and refreshing style."

Margaret Paul, Ph.D., co-author of "Healing Your Aloneness" and co-creator of Inner Bonding


"This fascinating book . . . both challenges and empowers us."

–John Dominic Crossan, author The Power of Parable
or
Not Currently Available for Direct Purchase