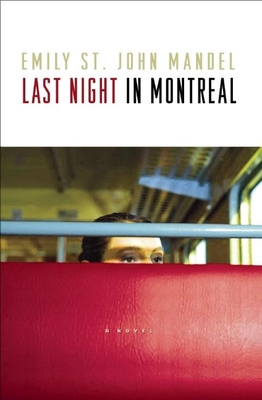 Last Night in Montreal (Paperback)
Unbridled Books, 9781936071609, 247pp.
Publication Date: June 7, 2010
* Individual store prices may vary.
or
Not Currently Available for Direct Purchase
Description
Lilia Albert has been leaving people behind for her entire life. She spends her childhood and adolescence traveling constantly and changing identities. In adulthood, she finds it impossible to stop. Haunted by an inability to remember her early childhood, she moves restlessly from city to city, abandoning lovers along with way, possibly still followed by a private detective who has pursued her for years. Then her latest lover follows her from New York to Montreal, determined to learn her secrets and make sure she's safe. Last Night in Montreal is a story of love, amnesia, compulsive travel, the depths and the limits of family bonds, and the nature of obsession.
In this extraordinary debut, Emily St. John Mandel casts a powerful spell that captures the reader in a gritty, youthful worldcharged with an atmosphere of mystery, promise and forebodingwhere small revelations continuously change our understanding of the truth and lead to desperate consequences. Mandel's characters will resonate with you long after the final page is turned.
Why do you think Lilia leaves Eli? Is Lilia a somewhat callous person, or is she simply a troubled one?
What is behind Eli's obsession with Lilia? Is it love or an attraction to the seemingly unattainable?
Lilia's father is a man with a criminal background who kidnaps his little daughter. At first are you suspicious of his motives? Why or why not?
Of the four parents frequently portrayed in the book— Lilia's mother and father and Michaela's mother and father— who is the worst? Who is the best? Are there many people who should simply never be parents? Give reasons for your answers.
Why does Lilia keeps leaving messages in Bibles in hotel rooms? Are her words really a request to be left alone or a request for help?
Did Lilia's father do the right thing, or would she have been better off with her mother?
Why do you think Lilia has so many lovers? And why does she keep leaving them?
Why does she have female lovers as well as male lovers? Is it because she is young and modern? Or confused? Or bisexual?

Why does Michaela become interested in Lilia? What do the two have in common?
How do you feel about the book's portrayal of the French language controversy in Montreal? Do you think English-speaking people are discriminated against in Quebec? Why or why not?
Do you think Micheala's is behavior self-destructive? Or experimental? Why or why not?
Does it ever seem to you as if Eli might be in love with Michaela, not Lilia? In which passage (s) and why?
Advertisement