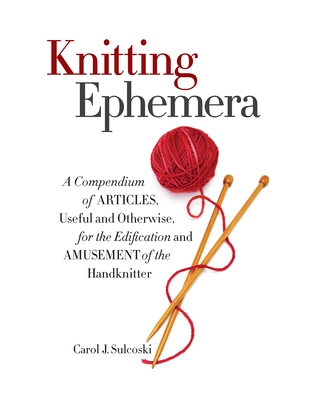 Knitting Ephemera (Hardcover)
A Compendium of Articles, Useful and Otherwise, for the Edification and Amusement of the Handknitter
Sixth & Spring Books, 9781936096985, 136pp.
Publication Date: February 17, 2016
* Individual store prices may vary.
Description
Did you know that knitting burns 102 calories per hour? Or that November is national Knit a Sweater month? Or that there are more sheep than people in New Zealand, Australia, and Iceland? These fun facts and many more make up Knitting Ephemera, a treasury of trivia for knitting enthusiasts. Containing 300 entries, this informative collection covers everything from knitting's appearances in history, literature, folklore, and pop culture to little-known facts about wool, sheep, and fiber producers. Helpful tips and techniques are included, as well as tidbits on crochet, spinning, and weaving. With illuminating illustrations throughout, Knitting Ephemera will entertain knitters and needlecrafters everywhere.
About the Author
Carol J. Sulcoski is a former attorney turned knitting author with a taste for random factoids, and a fascination with yarny anecdotes. Her previous books are Lace Yarn Studio and Sock Yarn Studio (both Lark Crafts); and the ebooks Knitting Socks With Handpainted Yarns and Knit So Fine (both Interweave). In addition to writing about knitting and the yarn industry for magazines like Vogue Knitting and Yarn Market News, she teaches at national shows and local yarn shops, sells unique hand-dyed yarns as Black Bunny Fibers, and has many published pattern designs. She lives outside Philadelphia with her family.