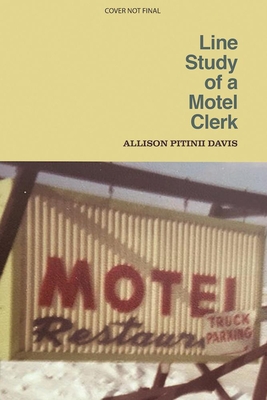 Line Study of a Motel Clerk (Red Ochre)
Paperback

* Individual store prices may vary.
Description
Two families immigrate to America's Steel Valley and open a trucking motel and laundry. The businesses change hands through three generations as the region's industry booms and busts. When the two disparate families become one, the new generation must examine what it means to endure in a place, a culture, a language, and a history. Line Study of a Motel Clerk examines a family's century-long effort to make a home in a world on the move.
Baobab Press, 9781936097135, 87pp.
Publication Date: February 28, 2017
About the Author
Allison Pitinii Davis is the author of Poppy Seeds (Kent State University Press, 2013), winner of the Wick Poetry Chapbook Award. Her poems have appeared in The New Republic, Black Warrior Review, CutBank, Connotation Press, and elsewhere. She holds an MFA from Ohio State University and fellowships from Stanford University's Wallace Stegner program, the Severinghaus Beck Fund for Study at Vilnius Yiddish Institute, and will spend 2015-2016 as a fellow at the Fine Arts Work Center in Provincetown. She was raised near Youngstown, Ohio.