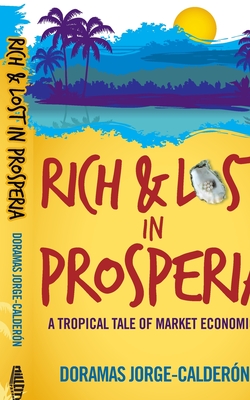 Rich and Lost in Prosperia
A Tropical Tale of Market Economics
Paperback

* Individual store prices may vary.
Description
Markets shape our everyday lives. The hobbies we can afford, where we live, how well we will fare in our job or business venture, all these depend on how well markets work. Understanding the market economy helps us all decide on our way forward, and yet, many people look on economics with apprehension. Fortunately, there are many excellent popular books that bring the subject to everyone. So, why another such book? "Rich and Lost in Prosperia" makes the economy more meaningful and easier to understand by portraying it as we experience it: unnoticed in the background of our daily life, yet always influencing it. Economist Doramas Jorge-Calderon uses the tale of two fictional young entrepreneurs on a tropical island, who go about pursuing their life's dreams. We soon see how the rules of markets shape the fruition of those dreams and how trying to circumvent those rules is a path laden with hidden risks. How well the two young men fare has little to do with equations and much to do with trust and trickery, with their dealings with sound and corrupt politicians, entrenched interests and smugglers, and with realizing the fine line separating self-interest from greed. Written with the non-economist reader in mind, the book also intuitively maps out the subject for economists. Economics is rarely so alive and so entertaining.
Mill City Press, Inc., 9781936107728, 296pp.
Publication Date: April 19, 2010