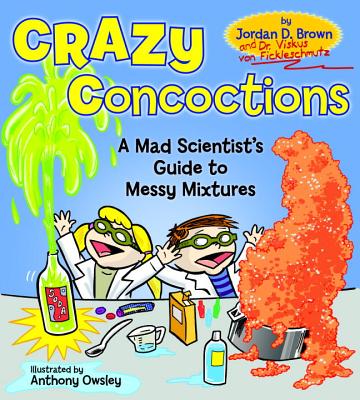 Crazy Concoctions: A Mad Scientist's Guide to Messy Mixtures (Hardcover)
A Mad Scientist's Guide to Messy Mixtures
Imagine Publishing, 9781936140510, 79pp.
Publication Date: February 1, 2012
Description
Making a mess is generally frowned upon, but if you are learning important scientific principles and creating cool science experiments, then the mess will have to be excused. Within the pages of this diabolically genius book is a collection of experiments that kids can do at home. They may make a mess, but they are fun, easy, and educational.
About the Author
Jordan D. Brown has written award-winning books, articles, and websites for children, teachers, and parents. His clients include Scholastic, Sesame Workshop, TIME for Kids, and Thirteen/WNET. His nonfiction work includes Robo World, a biography of a robot designer; his children's fiction includes Just Kidding! and Animal E.R. Brown has written science articles, games, and humorous songs about astronomy, paleontology, marine biology, and much more for the American Museum of Natural History's kids website, OLogy. Brown has also served as Educational Consultant for a variety of preschool children's shows, including The Mr. Men Show (Cartoon Network), Dinosaur Train (PBS), My Friend Rabbit (NBC), and Miss Spider s Sunny Patch Friends (Nickelodeon)."
Advertisement