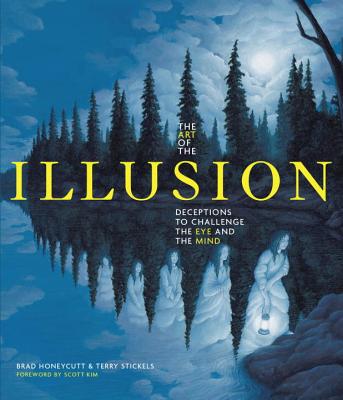 The Art of the Illusion: Deceptions to Challenge the Eye and the Mind (Hardcover)
Deceptions to Challenge the Eye and the Mind
Imagine Publishing, 9781936140718, 224pp.
Publication Date: July 1, 2012
* Individual store prices may vary.
or
Not Currently Available for Direct Purchase
Description
Optical illusions intrigue the mind and delight the eye. Viewers try to perceive the visual shifts in a two-dimensional picture, but can't understand how a single still image can be so animated and rich. While even the simplest illusions please, this stunning volume goes far beyond the usual collection. Compiled by visual graphics expert Brad Honeycutt and puzzle master Terry Stickels--and featuring a foreword by renowned puzzle creator, computer game designer, and artist Scott Kim--this collection showcases over two hundred of the finest images from around the world. From Rafal Olbinski, Rob Gonsalves, and Octavio Ocampo to David Macdonald, Gene Levine, and M. C. Escher, THE ART OF THE ILLUSION covers the visual spectrum, from the most classic optical illusions to complex graphic and painterly designs that transform the impossible into believable. There are famous paintings, dazzling photographs, and amazing computer-enhanced eye treats that will make you look and look again. There's "Zipper Beach" with gulls zipping over the sands, "Table Top Towers" where a tower of blocks seems to meld into a city skyline, a librarian whose body is literally composed of books, and so many more astounding pieces. This is a must-have for those who already love optical illusions and those just discovering the wonders of the art.
About the Author
Terry Stickels is well-known for his three internationally syndicated columns. FRAME GAMES, seen in USA Weekend magazine, is read by over 48,000,000 people in 600 newspapers weekly. He concurrently writes STICKELERS for King Features, appearing in over 200 newspapers daily, including the Washington Post, the Chicago Sun-Times, the Denver Post, and the Toronto Star. He also is the featured puzzle columnist for the Guardian, London's largest newspaper. In addition, Terry finds time to write books for both adults and children, and do motivational speaking. Brad Honeycutt is a web developer and optical illusion enthusiast. For over a decade, he has operated a popular optical illusion website, allowing him the opportunity to get to know many wonderful artists. He works with two of the world's leading stereogram creators to help publish several books containing their 3-D creations.
Advertisement