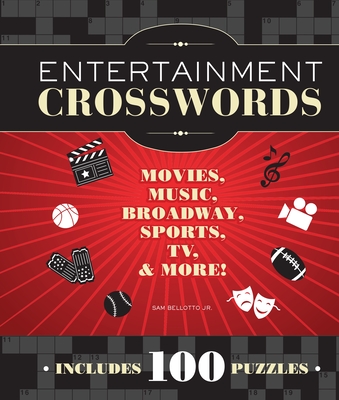 Entertainment Crosswords: Movies, Music, Broadway, Sports, TV, & More! (Spiral)
Movies, Music, Broadway, Sports, TV, & More!
Imagine Publishing, 9781936140824, 128pp.
Publication Date: July 1, 2012
Description
You won't find crosswords more entertainging than these Each of these one hundred puzzles shines a spotlight on a fun theme, like music, movies, TV, theater, and sports--all teh things you enjoy most. Test your trivia skills on topics like Law & Order (cop shows), King of Horror (Stephen King), the Tonys, and Rack 'Em Up (the game of pool). Fans of pop music can see how they do on After the Beatles, which has clues about albums the Fab Four made after they split up, while literature lovers will have a blast solving Thar She Blows (Moby Dick) or The Game's Afoot (Sherlock Holmes). These newspaper-sized crosswords range in difficulty from easy to nearly impossible.
About the Author
Sam Bellotto Jr. has been making puzzles professionally since 1979 in the Sunday New York Times Magazine. Today he contributes regularly to all the major crossword puzzle markets, including The New York Times, and also does a weekly crossword feature for high-profile newspapers and magazines. Bellotto's company, Crossdown, develops word puzzle computer games and software as well as the puzzles themselves. Crossdown has garnered the top People's Choice Award from the Educational Software Cooperative (ESC) four times between 1998 and 2004.
Advertisement