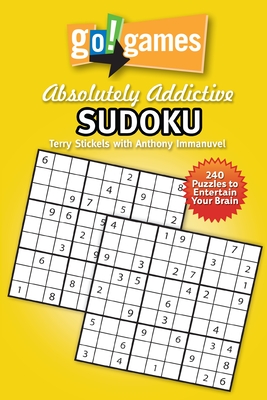 Go!games Absolutely Addictive Sudoku (Paperback)
Imagine Publishing, 9781936140893, 288pp.
Publication Date: February 1, 2013
Description
Ever since sudoku burst onto the scene, solvers found it irresistible. They grabbed any variant they could find and hungrily tested their skills. Well, now we're upping the ante with 240 new, fabulous and sometimes wildly innovative sudoku, and fans beware: once you start solving, you won't be able to stop Give your brain a good workout, but not so impossible that you'll get frustrated. They come in a variety of levels, so even if you're a relative beginner, you can work your way up to the hardest "Big Mind Challenge" selection. To help you, there's an excellent introductory section with tips and techniques. They're fun, they're entertaining, they're ABSOLUTELY ADDICTIVE.
About the Author
Terry Stickels is well-known for his three internationally syndicated columns. FRAME GAMES, seen in USA Weekend magazine, is read by over 48,000,000 people in 600 newspapers weekly. He concurrently writes STICKELERS for King Features, appearing in over 200 newspapers daily, including the Washington Post, the Chicago Sun-Times, the Denver Post, and the Toronto Star. He also is the featured puzzle columnist for the Guardian, London's largest newspaper. In addition, Terry finds time to write books for both adults and children, and do motivational speaking. Anthony Immanuvel is a computer engineer and puzzle creator. His puzzles are featured in leading newspapers and puzzle magazines around the world. He has contributed puzzles to the World Sudoku Championship and has written over twenty puzzle books. He lives in India.
Advertisement