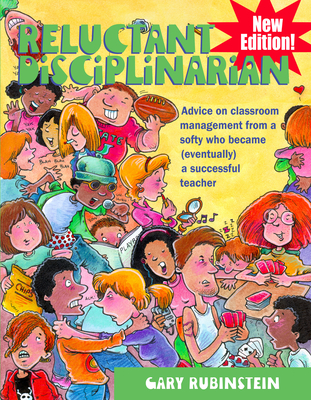 Reluctant Disciplinarian (Paperback)
Advice on Classroom Management from a Softy Who Became (Eventually) a Successful Teacher
Prufrock Press, 9781936162154, 175pp.
Publication Date: July 1, 2010
* Individual store prices may vary.
Description
In this funny and insightful book, Gary Rubinstein relives his own truly disastrous first year of teaching. He begins his teaching career armed only with idealism and romantic visions of teachin--and absolutely no classroom management skills. By his fourth year, however, he is named his school's "Teacher of the Year." As Rubinstein details his transformation from incompetent to successful teacher, he shows what works and what doesn't work when managing a classroom. Just a few of his ideas: Develop a teacher look. The teacher look says, "There's nothing you can do that I haven't already seen, so don't even bother trying." Show students that you are a "real" teacher by doing things they expect of real teachers, at least for a while. Be prepared to utter a decisive answer to anything within two seconds. Decisive answers inspire confidence. Any teacher--experienced or not--will enjoy this honest and humorous look at the real world of teaching and will come away with some very helpful ideas for classroom management. The book is used all over the country in teacher preparation programs. Ben Guest, Program Manager for the Mississippi Teacher Corps describes the book as "That rare classroom management book that is both thoughtful and realistic. It is also a great read, with parts that are laugh-out-loud funny."
About the Author
Gary Rubinstein trained as a teacher with the Teach for America (TFA) program, and he now teaches 9th- and 10th-grade math at Stuyvesant High School. Rubinstein is also the recipient of the 2005 Math for America Master Teacher Fellowship.
Praise For Reluctant Disciplinarian: Advice on Classroom Management from a Softy Who Became (Eventually) a Successful Teacher…
"Reluctant Disciplinarian is that rare classroom management book that is both thoughtful and realistic. It is also a great read, with parts that are laugh-out-loud funny. We use Gary Rubinstein's book every year with our incoming teachers. Classroom management is a key to successful teaching and Rubinstein's book provides hard-won knowledge for how first-year teachers, or any teacher, can create a well-managed classroom. Rubinstein shows that classroom management can be both respectful and practical, in any situation."  Ben Guest, program manager, Mississippi Teacher Corps

"I was reading Reluctant Disciplinarian last night. Lots of wonderful stuff here! The 'hero teacher' section is so good I cheered, even though I've probably succumbed to that inclination now and then. I guess we all do."   Jonathan Kozol, author,  Death at an Early Age and On Being a Teacher