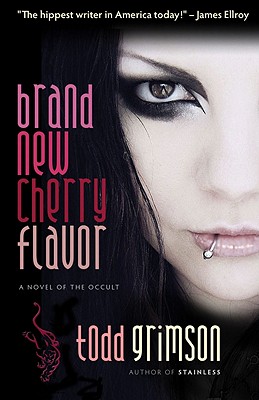 Brand New Cherry Flavor (Paperback)
A Novel of the Occult
Schaffner Press, Inc., 9781936182190, 352pp.
Publication Date: October 1, 2011
* Individual store prices may vary.
Description
In the world of Hollywood's panderers, philanderers, has-beens, and sycophants, aspiring screenwriter and director Lisa Nova considers herself a rising star who can transcend the lies, cheating, and hypocrisy for the sake of her art. When she is coldly betrayed by one leering producer too many, she turns to Boro, the enigmatic leader of a local biker gang, to exact vengeance—and she gets more than she bargained for. It begins with the strange tattoos that appear overnight on her skin like stigmata, followed by the hallucinations of ancient cults of the undead. Lisa soon finds herself contending with white jaguars and cannibalistic demons rising from the grave, and the lines between dreams and reality quickly dissolve in this surreal and exhilarating blend of satire and the macabre.
About the Author
Todd Grimson is the author of Stainless and Within Normal Limits. He lives in Portland, Oregon.
Praise For Brand New Cherry Flavor: A Novel of the Occult…
"Todd Grimson is the hippest writer currently operating in America. He's a master of noir; a master of Theater of the Absurd; he's a brilliant prose stylist. He's profane and howlingly funny. Dig Grimson––he's one of the American writers to ride with into the new century." —James Ellroy, author, Black Dahlia
"Grimson has given us a true look at the dark side--sexy, perverse, twisted and so very entertaining!" —A. M. Homes, author, The Safety of Objects
"Perhaps the best horror novel I have read in the last few decades." —Elizabeth Hand, Fantasy & Science Fiction  (January 12, 2012)
"Perfectly poised on the edge that separates humor from horror, this novel furthers Grimson's reputation as one of the more inventive new writers probing the dark side of contemporary America today." —Publisher's Weekly
"A novel unlike any other . . . a depraved masterpiece. It's the novel that, out of anything I've ever read, most closely mirrors the rhythm and logic of nightmares." —Nick Antosca, author, Fires and Midnight Picnic
"Dark and magical; the pages fly!" —Patricia Briggs, New York Times bestselling author of Casey Thompson Series
"Brand New Cherry Flavor is a modern classic – brutal and funny, gorgeous and profound." —Katherine Dunn, author, Geek Love
"Thrilling, edgy, gritty, and above all, terrific!" —Charlaine Harris, author of the New York Times best selling Sookie Stackhouse series, including Dead Reckoning
or
Not Currently Available for Direct Purchase