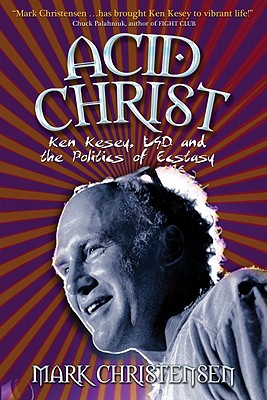 Acid Christ
Ken Kesey, LSD and the Politics of Ecstasy
Paperback

* Individual store prices may vary.
Other Editions of This Title:
Hardcover (10/1/2010)
Hardcover (1/1/2010)
Description
From the literary wonder boy to the countercultural guru whose cross-country bus trip inspired The Electric Kool-Aid Acid Test, this candid biography chronicles the life and times of cultural icon Ken Kesey from the 1960s through the 1980s. Presenting an incisive analysis of the author who described himself as -too young to be a beatnik and too old to be a hippie, - this account conducts a mesmerizing journey from the perspective of Mark Christensen, an eventual member of the Kesey -flock.- Featuring interviews with those within his inner circle, this exploration reveals the bestselling author of One Flew Over the Cuckoo's Nest in his many forms, placing him within the framework of his time, his generation, and the zeitgeist of the psychedelic era.
Praise For Acid Christ: Ken Kesey, LSD and the Politics of Ecstasy…
"A fascinating hybrid . . . an excellent cultural history that will also stand, perhaps ironically, as a valuable companion to the very book that inspired [Christensen] to take drugs, Tom Wolfe's The Electric Kool-Aid Acid Test."  Publishers Weekly (starred review)
"Everybody is down on the 1960s except those of us who went up in smoke when they happened. The cultural cops will never forgive us. Mark Christensen takes you there, the good, bad, and ugly. . . . Kesey is the right door to open if you want to put down your cyber toys and leave the plane without one of those pesky parachutes."  Charles Bowden, author, Down by the River
"Mark Christensen with Acid Christ has brought Ken Kesey to vibrant life-provocative, colorful, engaging and personal . . . a front-row seat into the mind of a counter-culture icon."  Chuck Palahniuk, bestselling author, Fight Club and Tell All
"Engrossing and wildly lyrical, Acid Christ is a mind-blowing meditation on America's most enigmatic literary figure since Ernest Hemingway."  Nicholas Schou, author, Orange Sunshine
"Will prove to be the most amusing history book you've ever read!"  Grace Slick, former lead singer, The Jefferson Airplane, and Rock and Roll Hall of Fame inductee
"An admirable book . . . Christensen knows what he's talking about and writes with an edgy energy that often produces surprising revelations."  Jeff Baker, the Oregonian/OregonLive.com
"Instead of a staid regurgitation of the life and times of Kesey-framed by colorful anecdotes by those who knew him best- author Mark Christensen becomes a willing participant, blending memoir with biography for a new genre: participatory biography."  San Francisco Chronicle: Out Loud
Acid Christ itself is a kind of wild bus ride . . . The author should get points for attempting such a hybrid literary form. A lot of readers will no doubt enjoy the Christensen life story as it parallels Kesey's more famous doings."  Tom Dodge, Dallas Morning News
Schaffner Press, 9781936182275, 440pp.
Publication Date: November 1, 2011
About the Author
Mark Christensen is the author of The So-Cal Speed Shop, Super Car: The Story of the Xeno, and The Sweeps: Behind the Scenes in Network TV. He is the former editor of Oregon Magazine and a media columnist for Rolling Stone. He has contributed articles to American Film, Connoisseur, the Los Angeles Times Sunday Magazine, Playboy, TV Guide, and Wired. He lives in Laguna Beach, California.
or
Not Currently Available for Direct Purchase