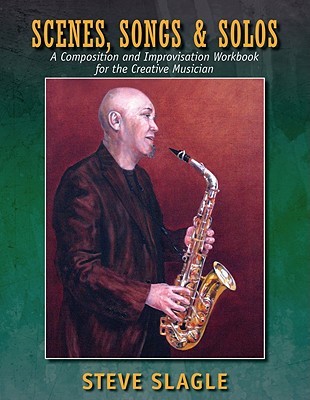 Scenes, Songs & Solos (Paperback)
A Composition and Improvisation Workbook for the Creative Musician
Schaffner Press, Inc., 9781936182282, 128pp.
Publication Date: September 1, 2011
* Individual store prices may vary.
Description
Aimed at musicians searching for the next level in their ability to compose and improvise, this handy reference draws on the author's own published music as well as accessible standards. Educational text is interspersed with personal experiences playing alongside legends such as "Machito" and his Latin Jazz Orchestra, Lionel Hampton's Big Band, trombonist Curtis Fuller, pianist Carla Bley, and Brazilian star Milton Nasciemento. Conducting a musical journey that enriches understanding of form, structure, time, melody, and harmony, this enlightening guide delves into the mechanics behind the craft, demystifying the art and providing inspiration to all aspiring musicians seeking to expand their creative horizons.
About the Author
Steve Slagle is an internationally renowned jazz musician and composer, a professor at the Manhattan School of Music, and a two-time Grammy Award winner for his arrangements with the Joe Lovano Nonet and the Charles Mingus Big Band. He lives in New York City.
Praise For Scenes, Songs & Solos: A Composition and Improvisation Workbook for the Creative Musician…
"I always understood (my late husband) Charles when he was talking about music because it was so simple and straight ahead and plain spoken. Steve has the same easy-going way of sharing himself and his musical ideas. It is lively and informative!" —Sue Mingus, author, Tonight at Noon, founder, Charles Mingus Big Band and Mingus Dynasty
"With the publication of this book, the rest of the world can now get an in-depth look at Steve's creative process. . . . Steve is an original, and one of the greatest composers and players in the world." —Dave Stryker, composer and longtime bandmate with Steve Slagle
"Within these pages you will find the wisdom, insights and perspectives on life and music shared with us by one of today's leading saxophonists, composers and educators on the scene. Thank you, Steve Slagle. Bravo!" ––Joe Lovano, Grammy Award-winning saxophonist and composer (June 2011)
"Steve Slagle's Scenes, Songs & Solos is full of fresh, original, and inspirational ideas on how to channel your creative process. . . . It will challenge your own thought processes with regard to music . . . and life!" —Randy Brecker, Grammy Award-winning trumpeter, cofounder of The Brecker Brothers
"A fresh and powerful reinforcement of the most fundamental truths in the creation and execution of music, elegantly and compellingly presented." —Richard Barone, author, Front Man: Challenging the Rock Star Myth, pop star and record producer
"Scenes, Songs & Solos is part songbook, part method book, part memoir and part philosophical dissertation. Aspiring saxophonists can dig into these . . . compositions, . . . and gain skills useful in any jam session. But perhaps even more penetrating––and entertaining—is Slagle's prose, which topically ranges fat and wide." —JazzTimes (December 2011)
"Slagle's book stands out. Thoroughly personal, it's very much a compilation of a badass player's knowledge gleaned from living and playing the jazz life." —Peter Hum, music reviewer for Ottawa Citizen, www.blogs.ottawacitizen.com
"The unique perspectives and solid musical material Slagle presents make this a welcome addition to the bookshelf and a worthy educational tool for those looking to expand their knowledge base and musical skills." —Dan Bilawski, jazz journalist and critic, www.AllAboutJazz.com (January 15, 2012)