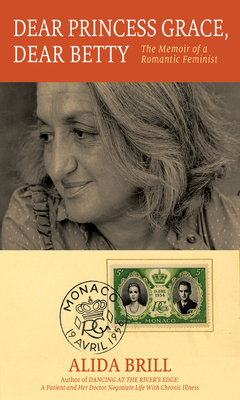 Dear Princess Grace, Dear Betty
The Memoir of a Romantic Feminist
Hardcover

* Individual store prices may vary.
Description
Winner:
Nautilus Book Awards, Silver, Category: Women


A candid and insightful memoir by the feminist writer and social critic Alida Brill, Dear Princess Grace, Dear Betty spans her life from the onset of the modern women's movement in the early 1960s through the second wave in the '70s and '80s and on to the present day, in which she became a leading figure and spokesperson. Her story begins in the postwar early suburban community of Lakewood, California, when, as a young girl, she wrote a letter to her idol, Princess Grace of Monaco; to her astonishment, she received a reply. Following this cornerstone event of her young years came the arrival of Barbie, in 1959, who represented an entirely different kind of woman in her stylish looks and zebra-striped swimsuit. Then, in 1963, the publication of The Feminine Mystique by Betty Friedan caused a seismic shift in the Brill household, propelling her mother into a life of feminism, and inspiring Alida to become a writer and steering her own life to a career s a social critic and feminist advocate. Later on, she became the close personal friend and confidante of Betty Friedan, and the two of them shared a bond not only due to their personal beliefs but also because both suffered from chronic illness: Friedan with chronic asthma and Brill with a rare auto-immune disease. This book presents Brill's inspirational message and quiet wisdom obtained from her four decades at the heart of the women's movement, while at the same time engaged in the dilemma of wanting to lead a romantic life. 
Praise For Dear Princess Grace, Dear Betty: The Memoir of a Romantic Feminist…
"Brill's graceful, honest memoir juxtaposes a clear-eyed, strong-willed feminism with a yearning for glamorous escape." —Jennifer Baumgardner, author, Manifesta and Look Both Ways

"Alida Brill's account of coming of age during the second wave of feminism offers an invaluable perspective to women raised on the Internet . . . Millennial women would do well to learn from Brill's experience, and harness her energy to continue the fight for equality." —Julie Zeitlinger, author and creator, The F-Bomb

"Alida Brill's memoir 'of a romantic feminist' is so generous with intimate revelations . . . and juicy women's movement gossip that it's tempting to term it a guilty pleasure. But her insights, guts, and humor dispel guilt, leaving pure pleasure." —Robin Morgan, author, Sisterhood is Global and Saturday's Child

"A candid memoir of love, illness, and friendship and a justification for 'romantic feminist love.' A perceptive chronicle of hard-won wisdom." —Kirkus Reviews

"In Alida's memoir, you are likely to hear some of your own stories, and in her conclusions, you may hear your own hopes for the rehabilitation of romantic love's energy into an empowering force for both women and men." —Debbie Burnham-Kidwell, eewc.com

"The story makes feminism something that is relatable as opposed to just something that was part of our history ... Alida Brill brilliantly shows us that in this book." —Amy Synoracki, San Francisco Book Review

"The story makes feminism something that is relatable as opposed to just something that was part of our history . . . Alida Brill brilliantly shows us that in this book." —Amy Synoracki, sanfranciscobookreview.com

"For those of us who like to swim in the deep waters of the female experience of the last 50 years, this book is a true gift." —Sally Susman, East Hampton Star
Schaffner Press, Inc., 9781936182848, 264pp.
Publication Date: April 19, 2016
About the Author
Alida Brill is a feminist social critic, the author of Nobody's Business: The Paradoxes of Privacy, and the editor of A Rising Public Voice: Women in Politics Worldwide. She is the coauthor of Dimensions of Tolerance: What Americans Believe About Civil Liberties and the dual memoir, Dancing at the River's Edge: A Patient and Her Doctor Negotiate Life with Chronic Illness. She lives in New York City.
or
Not Currently Available for Direct Purchase