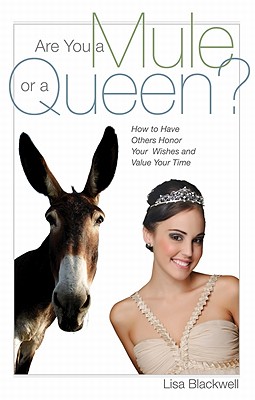 Are You a Mule or a Queen?: How to Have Others Honor Your Wishes and Value Your Time (Paperback)
How to Have Others Honor Your Wishes and Value Your Time
Langdon Street Press, 9781936183487, 197pp.
Publication Date: December 1, 2010
* Individual store prices may vary.
or
Not Currently Available for Direct Purchase
Description
Have you ever wondered why some women are exploited while others are treated like royalty? Do you spend your time listening to your family and friends tell drama-filled stories when you'd rather be doing something else?
If you feel like you get the short end of the stick when asking yourself these questions, it's time to make a change in the way you let others treat you.
In Are You a Mule or a Queen?, author Lisa Blackwell shows us how to draw clear boundaries between what we would like to do for others and what we must do for ourselves to keep from losing ourselves in the burdens we unwittingly take on.
Remember: Your time and energy cannot be monopolized and abused by others without your consent. Are You a Mule or a Queen? reminds women that while you cannot force others to treat you with respect; you can choose the people you surround yourself with. This first-of-its-kind guide shows women that it is never too late to make the changes necessary to feel like a queen.

Advertisement