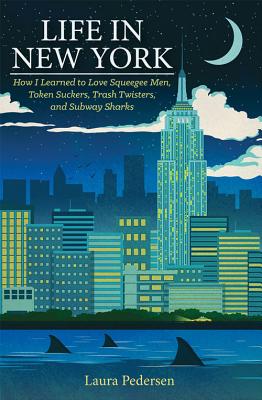 Life In New York
How I Learned to Love Squeegee Men, Token Suckers, Trash Twisters, and Subway Sharks
Paperback

* Individual store prices may vary.
Description
Winner of:
2015 Seven Sister Books Award, Nonfiction

Laura Pedersen, author of bestseller Play Money and award-winning Buffalo Gal, serves up a hilarious memoir about three decades of city life. Originally from Buffalo, NY, friends thought the seventeen year old was suffering from blizzard delirious when she left Buffalo for Manhattan. Pedersen experiences her adopted city in the best and worst of times while becoming the youngest person to have a seat on the stock exchange, performing stand up comedy, and writing a column in the New York Times. Neighborhoods that feature chai bars, Pilates studios, and Gymboree were once drug dens, ganglands, and shantytowns. A trip to Central park often ended in central booking, identifying a perp in a lineup. New Yorkers are as diverse as the city they so colorfully inhabit, cautious but generous, brash but welcoming. Both are captured through the comedic eye of Pedersen. Enjoy an uproarious romp down memory lane as the city emerges as the modern metropolis we know today.
Fulcrum Publishing, 9781936218158, 200pp.
Publication Date: July 1, 2015
About the Author
Laura Pedersen is an author, humorist, and playwright. She was also the youngest person at age 20 to have a seat on the American Stock Exchange, while earning a finance degree at New York University's Stern School of Business. She writes for the New York Times and is the author of Play Money, Beginner's Luck (chosen as a Barnes & Noble Discover Great New Writers selection), Planes Trains, and Auto-Rickshaws, Buffalo Gal and Buffalo Unbound.