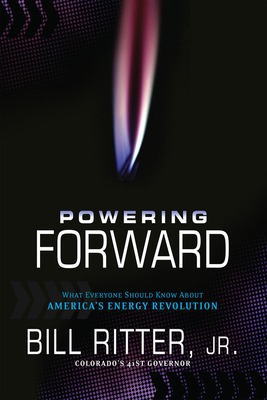 Powering Forward
What Everyone Should Know About America's Energy Revolution
Paperback

* Individual store prices may vary.
Description
A historic energy revolution is underway in the United States. Wind, sunlight, and other sustainable resources are now the fastest growing sources of energy in the U.S. and worldwide. American families are installing power plants on their roofs and entire communities are switching to 100 percent renewable energy. The urgent need to prevent climate change is causing people around the planet to question their reliance on carbon-intensive oil, coal, and natural gas. Author Bill Ritter, Jr., the 41st governor of Colorado and one of America's key thought leaders on this topic, discusses the forces behind the energy revolution, the new ways we must think about energy, and the future of fossil and renewable fuels. It is an essential read for any who want to understand one of history's biggest challenges to peace, prosperity, and security in the United States. Written in partnership with the Center for a New Energy Economy. 
Praise For Powering Forward: What Everyone Should Know About America's Energy Revolution…
"Governor Ritter has written an important book for anyone interested in energy and the challenge of climate change." —Jeff Bingaman, former US Senator (NM), former Chair, Senate Committee on Energy and Natural Resources

"As a long-time student and policy maker regarding America's energy future in the 21st century, I am aware of no book that addresses our energy challenges more comprehensively than Governor Bill Ritter's new book, Powering Forward." —Gary Hart, United States Senator, Colorado (Ret.)

"In this essential book, Gov. Ritter analyzes the choice we face between designing our future or being its victims." —Walter Isaacson, CEO, Aspen Institute

"An informative why-and-how book about preventing climate change by making the transition to clean energy.In straightforward prose interspersed with bulleted lists and numerous charts, diagrams, maps, and tables, Ritter tells it like it is, showing what the challenges are, where we have failed, and why." —Kirkus Reviews

"Between the solid research, the lack of political divisiveness, and the author's dedication to the idea of American leadership in climate change, the book rings with enthusiasm of an infectious variety." —Foreword Reviews

"Every elected official in the United States should read this book. It is the owner's manual to a new American century and clean energy economy." —Robert C. Sisson, Executive Director, ConservAmerica

"With his passionate commitment to revolutionary energy changes, Governor Ritter shows us the way forward with the winning evolutionary approach outlined in this book." —Mark Udall, US Senator, Colorado (Ret.)

"Bill Ritter tells us how to root the emerging renewable energy economy in ethics, vision, truth-telling and compassion." —Hunter Lovins, founder and President, Natural Capitalism Solutions

"Powering Forward is the best, most thorough and sensible analysis of the energy-climate policy issues I've seen in recent years." —David Orr, Counselor to the President, Oberlin College

"This book takes us to the ground level and gives us a much-needed guide to a real and exciting clean energy future." —Maggie Fox, former CEO, Climate Reality Project; former Deputy Executive Director, Sierra Club
Chicago Review Press - Fulcrum, 9781936218219, 304pp.
Publication Date: March 15, 2016
About the Author
Bill Ritter was elected Colorado's 41st governor in 2006, and during his four-year term, Ritter established Colorado as a national and international leader in clean energy, by building a new energy economy. He is the founder and director of the Center for the New Energy Economy (CNEE) at Colorado State University, and lives in Denver with his wife and four children. Join the clean energy conversation by connecting with CNEE at cnee.colostate.edu.
or
Not Currently Available for Direct Purchase