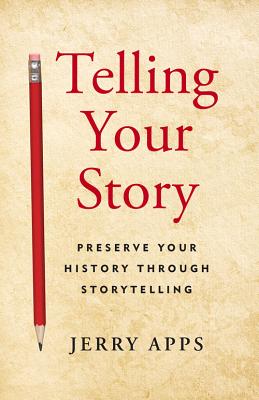 Telling Your Story (Paperback)
Preserve Your History Through Storytelling
Fulcrum Group, 9781936218226, 200pp.
Publication Date: June 1, 2016
* Individual store prices may vary.
Description
Jerry Apps, renowned author and veteran storyteller, believes that storytelling is the key to maintaining our humanity, fostering connection, and preserving our common history. In Telling Your Story, he offers tips for people who are interested in telling their own stories. Readers will learn how Jerry Apps weaves together his stories, and gain valuable tips on how to turn their experiences into cherished tales. He explores how to choose stories from memories, how to journal, and tips for writing and oral storytelling, as well as speaking to a live radio or TV audience. Along the way, readers will learn about the value of storytelling and how this skill ties generations together, preserves local history, and much more.
About the Author
Jerry Apps writes novels and nonfiction about the outdoors, country life, and rural living for adults and children. His books include Letters From Hillside Farm, Rural Wit and Wisdom: Time-Honored Values from the Heartland, and Campfires and Loon Calls: Travels in the Boundary Waters. He was elected a Fellow in the Wisconsin Academy of Sciences Arts and Letters in 2012 and received the 2008 First Place Nature Writing Award from the Midwest Independent Publishers Association, and the 2007 Major Achievement Award from the Council for Wisconsin Writers. Jerry has taught storytelling workshops and classes for more than thirty years for the University of Wisconsin-Madison, The Clearing in Door County, and many other venues. He and his wife split their time between their home in Madison, and their farm near Wild Rose, Wisconsin. For further information go to www.jerryapps.com, or connect with Jerry on Twitter (@jerryap) or Facebook (facebook.com/jerryapps).
or
Not Currently Available for Direct Purchase