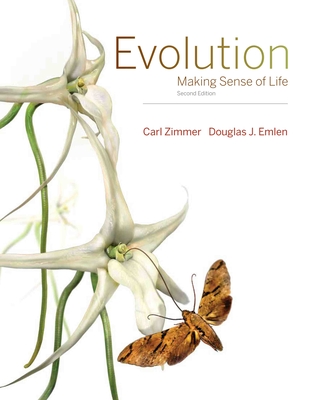 Evolution (Paperback)
Making Sense of Life
Roberts and Company Publishers, 9781936221554, 752pp.
Publication Date: July 24, 2015
* Individual store prices may vary.
Description
Science writer Carl Zimmer and evolutionary biologist Douglas Emlen have produced a thoroughly revised new edition of their widely praised evolution textbook. Emlen, an award-winning evolutionary biologist at the University of Montana, has infused Evolution: Making Sense of Life with the technical rigor and conceptual depth that today's biology majors require. Zimmer, an award-winning New York Times columnist, brings compelling storytelling to the book, bringing evolutionary research to life. Students will learn the fundamental concepts of evolutionary theory, such as natural selection, genetic drift, phylogeny, and coevolution. The book also drives home the relevance of evolution for disciplines ranging from conservation biology to medicine. With riveting stories about evolutionary biologists at work everywhere from the Arctic to tropical rainforests to hospital wards, the book is a reading adventure designed to grab the imagination of students, showing them exactly why it is that evolution makes such brilliant sense of life.
Praise For Evolution: Making Sense of Life…
"Zimmer is the master of taking current primary literature and making it come alive." Mathew J. Miller, Villanova University 
"Exciting is a word not often used to describe a new textbook. But by using powerful examples, beautiful images, and finely wrought prose, Zimmer and Emlen have produced a book that not only conveys the explanatory power of evolution, but is also permeated with the joy of doing science. Their text can only be described as an exciting moment for our field: it is an important accomplishment for our students and for evolutionary biology at large." Neil Shubin, University of Chicago
"I think my students will be genuinely more at ease with their reading assignments and more able to assimilate and retain information from this text. The authors use their expert narrative skills to focus on the big conceptual ideas, which is what matters most in my students' long-term education." Bronwyn H. Bleakley, Stonehill College
or
Not Currently Available for Direct Purchase