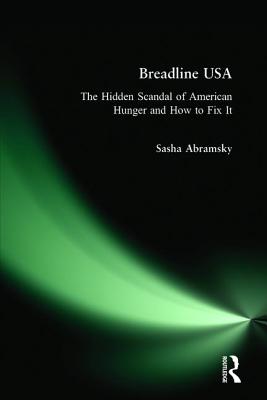 Breadline USA: The Hidden Scandal of American Hunger and How to Fix It (Paperback)
The Hidden Scandal of American Hunger and How to Fix It
Polipoint Press, 9781936227099, 209pp.
Publication Date: April 2, 2011
* Individual store prices may vary.
or
Not Currently Available for Direct Purchase
Description
Twenty-five million Americans--nearly 9 percent of the U.S. population--rely on food pantries. Another 13 million aren't linked to a food distribution network, and 14 million children are at risk of going hungry on any given day. Moreover, the faltering economy is increasing the number of American families that don't know where their next meals are coming from.
Breadline USA treats this crisis not only as matter of failed policies, but also as a portrait of real human suffering. Investigative reporter Sasha Abramsky focuses attention on the people behind the statistics--the families caught up in circumstances beyond their control. Breadline USA is a vivid reminder of the fate to which many more Americans may be subject without urgent action.

Praise For Breadline USA: The Hidden Scandal of American Hunger and How to Fix It…
"Abramsky writes in the best tradition of Barbara Ehrenreich, Studs Terkel, and John Steinbeck. The fruit of his patient and compassionate research, Breadline USA, is required reading for all of us concerned to banish, forever, the long hidden legacy of hunger in America."—Raj Patel, author of Stuffed and Starved
"We have come a long way since the Dust Bowl era, when hunger was a pressing national concern. Or have we? Abramsky challenges our conventional wisdom with an impassioned plea to take hunger and food production seriously again. In his book, hunger becomes a way to gauge where we are as a civilized nation. Breadline USA is an eye-opening account and, more important, a call to action."
—Sudhir Venkatesh, author of Gang Leader for a Day
 
Advertisement