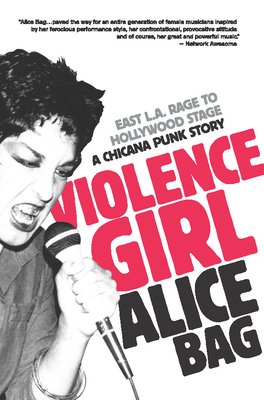 Violence Girl
East L.A. Rage to Hollywood Stage, a Chicana Punk Story
Paperback

* Individual store prices may vary.
Description
The proximity of the East L.A. barrio to Hollywood is as close as a short drive on the 101 freeway, but the cultural divide is enormous. Born to Mexican-born and American-naturalized parents, Alicia Armendariz migrated a few miles west to participate in the free-range birth of the 1970s punk movement. Alicia adopted the punk name Alice Bag, and became lead singer for The Bags, early punk visionaries who starred in Penelope Spheeris' documentary The Decline of Western Civilization.
Here is a life of many crossed boundaries, from East L.A.'s musica ranchera to Hollywood's punk rock; from a violent male-dominated family to female-dominated transgressive rock bands. Alice's feminist sympathies can be understood by the name of her satiric all-girl early Goth band Castration Squad.
Violence Girl takes us from a violent upbringing to an aggressive punk sensibility; this time a difficult coming-of-age memoir culminates with a satisfying conclusion, complete with a happy marriage and children. Nearly a hundred excellent photographs energize the text in remarkable ways.
Alice Bag's work and influence can be seen this year in the traveling Smithsonian exhibition American Sabor: Latinos in U.S. Popular Music.
Praise For Violence Girl: East L.A. Rage to Hollywood Stage, a Chicana Punk Story…
"Violence Girl is not some sentimental look back at how great it all was. Alice [Bag], without exaggeration, allows the reader to understand how exciting and in-the-moment things could be—but also how quickly and easily things can go bad and come to an end.With The Bags in the middle of it, it was a time of incredible innovation, explosive creativity and recordings that stand the test of time."—Henry Rollins for LA Weekly
Feral House, 9781936239122, 384pp.
Publication Date: September 27, 2011
About the Author
Alice Bag was there at the origins of L.A. punk, at the famed Masque and Whisky-a-Go-Go, hanging out with Darby Crash and the Go-Gos. But she started as Alicia Velasquez, and English was her second language. She knew Mariachis better than rock music. A certain violence was passed on to her from her Mexican-American father. Alice's feminist qualities were seen in the notorious Castration Squad band she formed in the late '70s. Alice and her Bags band was featured in the notorious documentary, The Decline of Western Civilization. She is currently married, has children, and lives in Phoenix, Arizona.