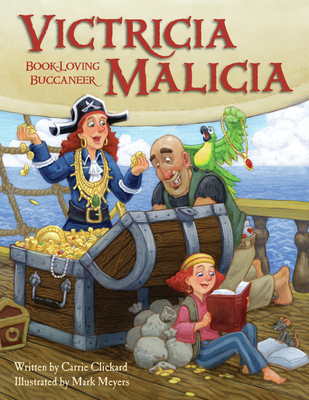 Victricia Malicia (Hardcover)
Book-Loving Buccaneer
Flashlight Press, 9781936261123, 32pp.
Publication Date: June 1, 2012
* Individual store prices may vary.
Description
Victricia Malicia Calamity Barrett may have been born on her family's pirate ship, but this mild-mannered young lady is sick of the sea: she'd much rather be ashore with her nose permanently buried in a book. But when Scylla the Serpent—the scourge of the sea—appears, quick-thinking Vic saves the ship by thunking the serpent on the head with her trunk full of books. For her bravery she is rewarded with the thing she wants most: a home on a little island. She opens a bookstore, and Landlubber Books becomes the pirates' favorite port in a storm. As Carrie Clickard's nimble, jaunty rhymes roll off the tongue like waves onto shore, children will delight in Victricia's adventures while parents will relate to her family's attempts to understand their unusual daughter. Victricia may not be a typical pirate hero, but she is the captain of her own destiny in this rollicking tale of self-determination, sticking to your dreams, and the joy of reading.
About the Author
Carrie Clickard writes a children's travel blog called Berenice Bear, and her poetry for children has appeared in Boy's Quest and Clubhouse Jr. magazines. She lives in Gainesville, Florida. Mark Meyers is the illustrator of the Ballpark Mystery series and Counting Cows. He lives in Brigham City, Utah.
Praise For Victricia Malicia: Book-Loving Buccaneer…
"Clickard takes rhyme and meter seriously, achieving, at her best, a Gilbert and Sullivan–like patter. . . . Meyers . . . provides lots of pirate detail and even an ironic moment or two. . . . Rollicking, sea-chantey verse and slapstick humor make this a promising readaloud." —Publishers Weekly (May 7, 2012)
"What a fun book! Bright, cheerful illustrations in vivid colors, clever writing with some challenging vocabulary words (opportunities to teach!) and a great storyline make this comfortably rhythmic book a delight. . . . Highly recommended." —www.bookfoolery.blogspot.co.il
"The rollicking rhyme tells the tale of Victricia with humor and plenty of lively action. And the message of the book in honoring everyone's special gifts and dreams was explored without a hint of lecture or nag . . . this book is worth a three-argh salute!" —www.MyShelf.com
"There are some books you love to read to your child, and some he prefers, but we think you'll both agree that Carrie Clickard's Victricia Malicia: Book-Loving Buccaneer will be considered a treasure. . . . Clickard's rhyming tale is a joy to read aloud." —www.NYParenting.com
"Clickard's masterful text is a rhyming joy to read, but one must pay attention or risk becoming tongue tied. Meyers's humorous illustrations add plenty of special touches like the fitting names on many book spines and covers. A fun read-aloud." —School Library Journal (August 2012)