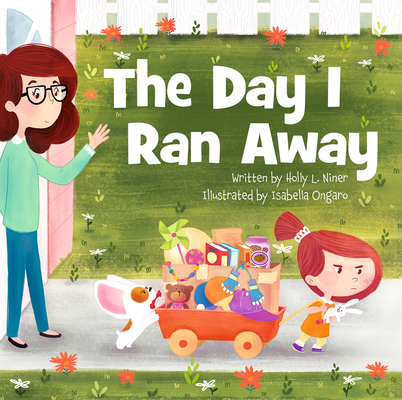 The Day I Ran Away (Hardcover)
Flashlight Press, 9781936261895, 32pp.
Publication Date: April 1, 2017
* Individual store prices may vary.
Description
Winner:
Mom's Choice Award
While Dad tucks her in, a little girl named Grace calmly recounts her day—which was anything but calm. She had a tantrum (because of some injustices involving a purple shirt and breakfast cereal) and was banished to her bedroom before deciding to run away. Understanding that kids have ups and downs, Grace's mom wisely gave her daughter the space and time she needed to reach her own decision to return home—to open arms.
The Day I Ran Away amusingly captures Grace's mutable moods and childlike logic. Warm, humorous digital paintings offer fun details to keep little listeners busy. Kids can compare the bedtime and daytime scenes and try to figure out how Grace got that purple paw-print on her cheek—and when it got washed away. They can mimic Grace's facial expressions or copy her poses for some soothing bedtime yoga. And of course, they can create a safe place to run away to when the injustices of Pre-K existence become too much to bear. A pop-up tent in the yard and the haven beneath the dining room table are excellent run-away destinations, as long as you come home for dinner.
About the Author
Holly L. Niner is a speech therapist and writer whose stories have appeared in many children's magazines. Her picture books were designated as an IBBY Outstanding Book for Young People with Disabilities (2005), an Oppenheim Toy Portfolio Award winner (2006) and a Bank Street College of Education Best Book (2005). This is her third picture book. Isabella Ongaro is an illustrator who loves adventure, travel, and experiencing the joy in life. She has illustrated several books in her native Italian. This is her first picture book in English.
Praise For The Day I Ran Away…
"A sweet story where running away leads Grace right where she needs to be." —Kirby Larson, Newbery Award-Winning author
"Alternating voices and fonts in adult orange and youthful purple relate Grace's experiences with dramatic humor, and fun, colorful illustrations . . . convey the wide range of emotions that allow Grace's day to go from better to best with a little help from Mom and Dad." —Foreword Reviews
"Niner's tale, told entirely in dialogue at bedtime, will be familiar to most toddlers, though not every set of parents is so indulgent and understanding. The typeface and color are different for each speaker (Grace's is, of course, purple). Ongaro's illustrations, drawn by hand but colored electronically, alternate between the evening bedroom and the events of the day, depicting Grace and her parents as white. The bright and cheery images add needed detail to the spare tale." —Kirkus Reviews
"Her patient mother comes up with a solution that respects Grace's need for a little space and independence . . . cheery scenes of domestic life . . . successfully establish the family's closeness." —Publishers Weekly
"The Day I Ran Away will be sure to keep kids engaged and will teach them the importance of following rules and listening to parents. And, hopefully, they will also learn that there really is no place like home." —Edwards Book Club
"Look out Alexander and the Terrible Horrible, No Good, Very Bad Day, there's a new book in town and it's earned a very special place in our hearts and on our book shelf." —CLC Reviews
"Youngsters will enjoy this tale because Grace's kid-sized sass does not erode their family's underlying strengths. Actually, caregiver trainers or parenting instructors can use this title to launch discussion on how active listening and flexible parameters underscore accountability in a kid-friendly way." —Katie Engen
"This fun little story pulls at big heart strings, and creates a wistful desire to return to a time when my very courageous little boy determined he too, needed broader living conditions." —Darleen Wohlfeil, storymonsters.com
"Deftly crafted, beautifully illustrated, and utterly charming from beginning to end, The Day I Ran Away is very highly recommended for family, preschool, elementary school, and community library picture book collections." —Midwest Book Review
"This is a cute story with a bit of a lesson for both children and parents." —Leslie, storeybookreviews.com