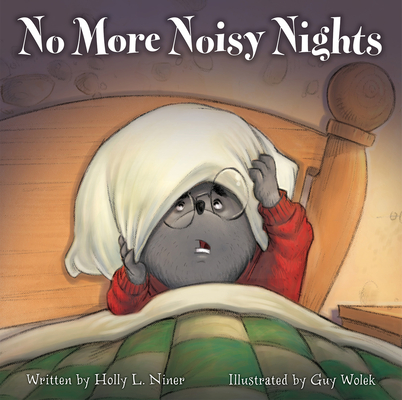 No More Noisy Nights
Hardcover

* Individual store prices may vary.
Other Editions of This Title:
Other (9/1/2017)
Description
Who is making so much noise and how will Jackson ever get to sleep? Despite some silly, sleepy mistakes, genteel Jackson finds a fun and quiet activity for each of his noisy neighbors. He finally gets a great night's sleep—and discovers three new friends in the morning. Cozier than a mole in fuzzy pajamas, No More Noisy Nights is an underground, under-the covers read-aloud, perfect for calming bedtime boogety-woogeties.
Praise For No More Noisy Nights…
"Flashlight Press pricks up its ears with No More Noisy Nights by Holly L. Niner, illus. by Guy Wolek, in which a mole discovers that his new underground home is inhabited by some spooky and noisy nocturnal creatures." —Publishers Weekly

"What can be better than a not-so-noisy house and new friends? This book is adorable, with cute illustrations and a good message of cooperation." —Sarah Maury Swan, sarahsbookreflections.com

"With pages bursting with beautiful colors and amusing characters . . . . shows children that sometimes things are really not as they seem and that making friends can be easier with a little cooperation and politeness. It's a perfect and cozy little picture book . . . for bedtime." —Christa McGrath, edwardsbookclub.com

"There is much to enjoy: the silly mistakes Jackson makes from lack of sleep, effective page turns that build suspense, and a predictable story structure. Soft, computer-generated illustrations will engage observant young readers keen to explore Jackson's new home." —Kirkus Reviews

"What can be better than a not-so-noisy house and new friends? This book is adorable, with cute illustrations and a positive message of cooperation." —Sarah Maury Swan, sarahsbookreflections.com

"This is a cute story book for kids and it might even teach them a little something about problem solving and dealing with uncomfortable situations." —Leslie, storeybookreviews.com

"Colorful, digital illustrations show a cast of only slightly creepy creatures making this a light, amusing read for monster storytimes." —Jennifer, flyingoffmybookshelf.co.il

"Illustrator Guy Wolek captures the warmth, patience, and overall heart-winning personality of Jackson the mole with perfection. We can all learn a thing or two as we watch Jackson cope with his new noisy neighbors. Its so much easier with kindness." —Darleen Wolfheil, storymonsters.com

"This book is a great one to get students thinking about problem solving when things aren't going well among classmates. How can you keep everyone happy when you are all so different and you all like different things? And if you are a parent who wants a new bedtime read, No More Noisy Nights certainly lends itself to that . . . put qualms about noises that go bump in the night to bed with the friends in this book." —Kathleen Wright, kidpeopleclassroom.com

"The illustrations are bright, crisp and bring across a snuggly atmosphere . . . . The plot itself is simple, and the text just right for younger listeners to grasp." —Tonja Drecker, bookwormforkids.blogspot.co.il
Flashlight Press, 9781936261932, 32pp.
Publication Date: September 1, 2017
About the Author
Holly L Niner is an award-winning picture book author. Mr. Worry: A Story about OCD received the 2005 IBBY Outstanding Books for Young People with Disabilities Award, I Can't Stop: A Story about Tourette Syndrome was the winner of the 2006 Oppenheim Toy Portfolio Award and a 2005 Bank Street College of Education Best Book, and The Day I Ran Away was released by Flashlight Press in April 2017. Holly grew up in Newburgh, NY, with her nose in a book and a Boogeyman in the basement. She lives in Fort Wayne, Indiana. Guy Wolek has created art in many forms over his thirty-five year career. These included courtroom sketching, character development for animation and film, portrait and editorial painting for newspapers and magazines (he was a regular artist for The Chicago Tribune), and children's book illustration in the educational and trade markets. In the past 20 years alone, Guy has done over 600 projects.