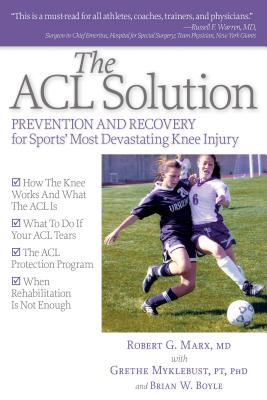 The ACL Solution (Paperback)
Demos Medical Publishing, 9781936303335, 174pp.
Publication Date: June 19, 2012
* Individual store prices may vary.
Description
In
The ACL Solution
, you'll find close to 50 ACL-specific exercises designed by Dr. Myklebust, a physical therapist for the Norwegian national women's handball, soccer and volleyball teams, and a world-renowned expert on the science of ACL injury prevention. You'll learn how to better balance your body and strengthen the muscles around your knee to provide greater stability and endurance. Whether you're the parent of active children, a promising young athlete, a coach, or a 40-year-old who lives for his or her weekly basketball league, this book is a must read.
The ACL Solution Features:
The Prevention Program, the center of this book, describes and illustrates the exercises that prevent ACL injuries.
A FAQ section, containing commonly asked questions by people who have had recent ACL tears.
An anatomy section that describes the anatomy of the knee
About the Author
Dr. Robert Marx practices in New York City at Hospital for Special Surgery. He is Professor of Orthopedic Surgery and Professor of Public Health at Weill Cornell Medical College. He lives in Manhattan with his wife Rena and daughters Ella and Hannah.

Dr. Grethe Myklebust practices at the Norwegian Olympic center as a specialist in Sports Physiotherapy in Oslo, Norway. She is an associate professor at the Oslo Sports Trauma Research Center at the Norwegian School of Sports Sciences. Dr. Myklebust enjoys cross-country skiing, running and hiking.
Praise For The ACL Solution…
"Having treated countless ACL injuries in athletes of all ages and levels of competition, Dr. Marx puts in one place everything you need to know about this injury and most importantly how to prevent it. This is a must-read for all athletes, coaches, trainers and physicians."
Russell F. Warren, MD, Surgeon in-Chief Emeritus, Hospital for Special Surgery, Team Physician, New York Giants

"This is the answer for sports medicine's most common injury."
Jordan D. Metzl, MD, author of The Athlete's Book of Home Remedies

"This is the most credible and useful resource on preventing the dreaded ACL injury. It is a must-read for every soccer mom and dad globally."
Vijay Vad, MD, author of Back Rx and the PBS national television special Stop Back Pain

"Dr. Robert Marx is one of those rare orthopedic surgeons who is passionate, not only about repairing the body, but preventing it from being injured in the first place. If you are someone who cares about an athlete, a parent, a trainer, a coach, or if you are an athlete yourself, you need The ACL Solution to help prevent a devastating anterior cruciate ligament (ACL) injury . . ."
Brett Fink, MD, author of The Whole Foot Book