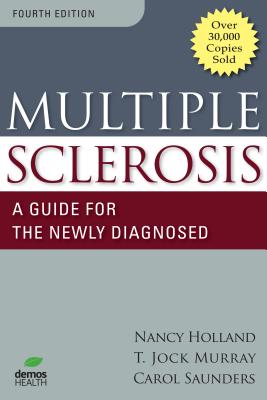 Multiple Sclerosis (Paperback)
A Guide for the Newly Diagnosed: Fourth Edition
Demos Medical Publishing, 9781936303366, 265pp.
Publication Date: August 21, 2012
Other Editions of This Title:
Paperback (4/1/2005)
* Individual store prices may vary.
Description
"This book has been written for those newly diagnosed with multiple sclerosis. It is a guide to learning about the disease, its potential impact on your life, and the medical treatments now available for managing it successfully. This is a time of great excitement in research and advances in clinical management, such that most people who have multiple sclerosis can lead full and productive lives.
This fourth edition is current and updated throughout, and includes a review of the controversy surrounding CCVSI and multiple sclerosis, discussion of the new pill Gelenya and other drugs in development for multiple sclerosis, new information on the drug Tysabri, and discussion of treatments and complementary and alternative medicine in MS. This the place to begin your education about MS.
About the Author
Nancy Holland is vice president of the Professional Resource Center and Clinical Programs Department at the National Multiple Sclerosis Society in New York. She holds undergraduate and graduate degrees in nursing and a doctorate in higher and adult education. Dr. Holland is author/editor of more than 60 MS-related articles, books and chapters. She is a founding member of the Board of Directors of the International Organization of MS Nurses (IOMSN).

T. Jock Murray, MD, is Professor of Medical Humanities at Dalhousie University in Halifax, and Director of the Dalhousie MS program. He has served as an officer in numerous Canadian and U.S. medical organizations. He is the recipient of many awards, including the Neilson Award from the Hannah Institute for the History of Medicine for contributions to medical history. He was awarded the Canada 125th Anniversary Medal and has been appointed an Officer of the Order of Canada.

Carol Saunders, BA, BSN, MSCN has been an MS nurse for the past 25 years, 23 of them spent working at Neurology Center of Fairfax, VA. She has been a member of the Consortium of MS Centers since 1990, a member of the National Multiple Sclerosis Society since 1993, and a member of of the International Organization of MS Nurses since it's beginning in 1997. She is a cofounder of the Greater Washington, D.C. area consortium of MS Nurses, has served on the Professional Advisory Committee and the Chapter Services Committee of the National Capital Area Chapter of the National MS Society and won the National Multiple Sclerosis Society Volunteer of the Year Award, 2008.
or
Not Currently Available for Direct Purchase