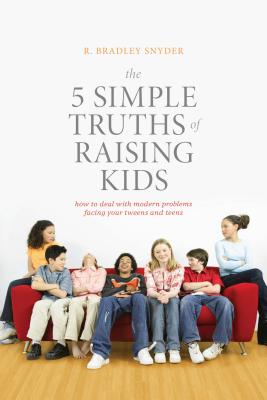 The 5 Simple Truths of Raising Kids (Paperback)
How to Deal with Modern Problems Facing Your Tweens and Teens
Demos Medical Publishing, 9781936303397, 192pp.
Publication Date: October 9, 2012
* Individual store prices may vary.
Description
Raising pre-teens and teenagers doesn√at have to be hard. In fact, if you only know five essential truths about why kids do what they do, you√are on your way to becoming a smarter, happier, and more sane parent. Brad Snyder is an expert in adolescent behavior and has years of experience decoding the messages that parents don√at get. He√as surveyed over 100,000 children and adolescents, and has interviewed close to 4,000 in group and one-on-one sessions. In spite of what you see on tv, kids these days are not more violent, more sexual, or more in danger than you once were. Kids are kids.
With The 5 Simple Truths of Raising Kids, you√all:
Learn some secrets of tween and teen communication
Find out what exactly your kid is doing all day and why
Make rules that make sense for the whole family, without building resentment
Learn the truth about kids and social networking, texting, and bullying
Become a parent your children respect, but not one they hate or fear
About the Author
R. Bradley Snyder is the president of New Amsterdam Consulting, Inc. and has worked for industry giants Marvel Comics, The Discovery Channel, and Nickelodeon. The projects he has designed and managed have helped develop raw concepts into some of the industry's most successful program and campaigns for children.
Praise For The 5 Simple Truths of Raising Kids: How to Deal with Modern Problems Facing Your Tweens and Teens…
This book provides an excellent overview of youth development. Educators and parents always look for advice and they will find many ideas about how to understand, support, and educate adolescents."Gil G. Noam is the Founder and Director of the Program in Education, Afterschool & Resiliency (PEAR) and an Associate Professor at Harvard Medical School.

In this wonderful book, Brad stands up for today's kids, debunks all the claims that they're somehow worse than the last generation, and offers sound, research-based advice on how parents and communities can do a better job raising them."Neil Howe is a renowned authority on generations and social change in America. An acclaimed author and speaker, he is the nation's leading thinker on today's generations.

For parents, teachers, community leaders, and any adult who cares about the next generation of our citizens, The 5 Simple Truths of Raising Kids is an urgent must-read"!Carol J. Evans, President, Working Mother Media, and Author, This is How We Do It: The Working Mothers' Manifesto

R. Bradley Snyder's book, The 5 Simple Truths of Raising Kids takes away the dread and replaces it with hopefulness and humor."Nicole Feliciano, Editor & Founder of MomTrends

Whether the context is food or video games, parents and children together can identify the central issue, and apply Brad's five simple truths to figure out what to do."George C. Brackett, Former Director, Technology in Education Program, Harvard Graduate School of Education, and Founder, Codman Academy Charter Public School, Boston

Brad's humanity is infectious, and his dedication to his work is inspiring. I can think of no better mentor to parents needing reassurance that kids are good, and everything is going to be okay."Art Roche, Creative executive for digital media and family entertainment

You'll learn from his book, and enjoy the lessons. Like Spock two generations ago, Snyder's worth your attention. Well done!"Richard E. Peck, Author of Something for Joey

"and a relief to know, in these days of helicopter parents and tiger moms, that I have a fighting chance as a parent."Amy Silverman, Managing Editor, Phoenix New Times, Author of award-winning stories about juvenile justice and mental health. Co-teacher, Mothers Who Write workshop, blogger: girlinthepartyhat

Snyder uses his experience, research, and clear vision to write a book that all parents should read."Aaron Kupchik, PhD., Author of Homeroom Security: School Discipline in an Age of Fear

Brad cuts through the misinformation and rhetoric to share with us a clear picture of what our kids' essential needs are, who our kids really are, and why they do the things they do."Terry Kalgin, Independent Producer/Consultant

Brad's conversational tone is warm and informative; he's the kind of expert you'd love to talk to over dinner. And as such, I think the lessons he's learned resonate more deeply."Steve Patrick, Children's Television Producer

Brad Snyder's fresh perspective makes for a page-turning guide that's both practical and inspiring. Every parent and mentor should read this book."Molly Chase, Host of the Saturday Morning Submarine Adventure Show at HUGE Theater in Minneapolis, MN