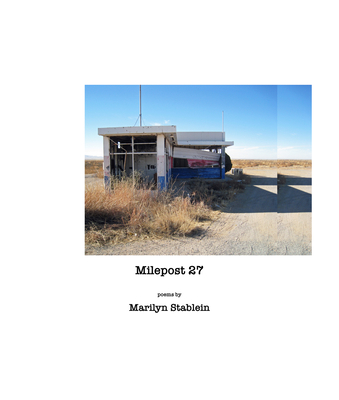 Milepost 27 (Paperback)
Black Heron Press, 9781936364312, 96pp.
Publication Date: May 20, 2019
* Individual store prices may vary.
Description
Milepost 27 showcases the poet's examination of the effects of climate change. From the bone altar of a Native American shaman who prays over disturbed land honoring deceased ancestors to the phantom forests of New Mexico where a ponderosa forest once thrived, Stablein has an eye for surreal environments, especially the drought-parched firescapes that have become increasingly common across the globe.
A number of Stablein's poems recall her post-Beat travels to Asia in the 60s where she studied art for six years. With a keen eye for detail, her poems evoke the rich cultural and spiritual life of people she met and places she lived, "from New York to Nepal; from Juarez to Varanasi; from Kathmandu to farflung rivers and seashores."
Her most poignant poems evoke her grief after the unexpected, accidental death of her son. From despair to acceptance, the arc of the book weaves up and down, in, out and around the familiar American obsession with the open road. Ultimately her lonesome journeys down the Jornado del Muerto adn the Route 66 caminos give way to acceptance, appreciation, and joy.
About the Author
Marilyn Stablein is the author of 15 books. She won the New Mexico Book Award, the National Federation of Press Women Book Award, a Southwest Writers Award, and was a finalist for the Marie Alexander Prose Poetry Award. Her books include The Census Taker, Climate of Extremes: Landscape and Imagination, Splitting Hard Ground: Poems, and Sleeping in Caves. She was a book critic for The Seattle Times and a founding board member of Seattle Arts and Lectures. She received creative writing degrees from the University of Washington and the University of Houston. Her writing and illustrations are widely published in magazines, journals, books, and anthologies. Her limited-edition artist books are in private and publlic collections. She lives in Portland, Oregon.
Praise For Milepost 27…
"'The heart measures/ without ruler or yardstick/ No meter, dial or glass scope,' Stablein writes in this new volume of her poems. This poet's heart measures with the tools of exquisite observation and curiosity. As Stablein wanders in diverse landscapes, by oceans and even a yard sale and a bathtub, she emerges reflective, present, piercing, and joyful after much grief. Isn't that the true measure of love, its blend of the bitter and the sweet? I have been enriched by reading these poems." — Sheila Bender, author of A New Theology: Turning to Poetry in a Time of Grief
"These poems make me think of Gary Snyder's 'Riprap' of words 'like rocks/ placed solid, by hands.' Stablein's words map landscapes both physical and emotional, from Kathmandu to high desert, from joy to 'the arroyos of the grieved.' Her voice, her precise imagery cut through these pages 'like a blowtorch cuts into steel.'" — Sibyl James, author of The Grand Piano Range and Hard Goods & Hot Platters
"Marilyn Stablein's Milepost 27 is a book of poetry filled with fire in all its forms. From the fiery rituals of India, where Stablein lived for years, to the climate of the American Southwest, where she lived as well, to the burning forests in the West, fire is the backdrop of all. These fine poems are an examination of "the soul's mysterious cravings" in the face of what we meet in life." — Judith Roche, winner of the American Book Award and author of All Fire All Water and Wisdom of the Body.