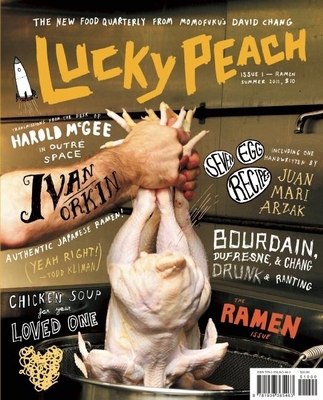 Lucky Peach, Issue 1: Ramen (Paperback)
Ramen
McSweeney's, 9781936365463, 174pp.
Publication Date: July 12, 2011
* Individual store prices may vary.
or
Not Currently Available for Direct Purchase
Description
Lucky Peach is a new journal of food writing, published on a quarterly basis by McSweeney's. It is a creation of David Chang, the James Beard Awardwinning chef behind the Momofuku restaurants in New York, Momofuku cookbook cowriter Peter Meehan, and Zero Point Zero Productionsproducers of the Travel Channel's Emmy Awardwinning Anthony Bourdain: No Reservations.
The result of this collaboration is a melange of travelogue, essays, art, photography, and rants in a full-color, meticulously designed format. Recipes will defy the tired ingredients-and-numbered-steps formula. They ll be laid out sensibly, inspired by the thought process that went into developing them.
Each issue will focus on a theme (Issue One's theme is Ramen ), with contributions from Harold McGee, Ruth Reichl, John T. Edge, Todd Kliman and a cavalcade of other writers and artists. The reader will meander through arguments about the superiority of yellow alkaline noodles over Italian egg pasta; a taxonomy of ramen-package characters; an eating tour of Japan helmed by an over-stuffed and nauseated, but nevertheless intrepid, David Chang; and a booze-fueled rant on mediocrity in American cuisine with chefs Chang, Bourdain, and Wylie Dufresne set in the Spanish Basque country.
The aim of Lucky Peach is to give a platform to a brand of food writing that began with unorthodox authors like Bourdain, resulting in a publication that appeals to diehard foodies as well as fans of good writing and art in general.
Advertisement