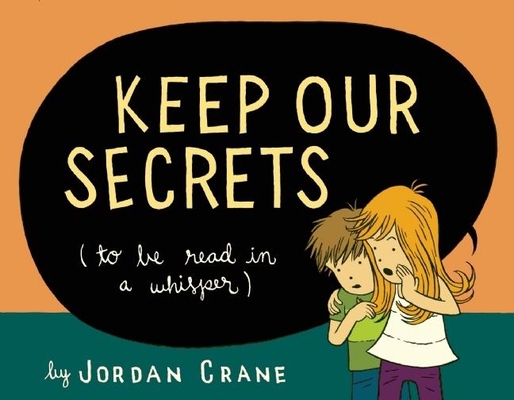 Keep Our Secrets (Board Books)
To Be Read in a Whisper
McSweeney's, 9781936365524, 32pp.
Publication Date: January 17, 2012
* Individual store prices may vary.
Description
Two young children tour their noisy house with fresh eyes, discovering along the way that all is not as it seems. Featuring heat-sensitive, color-changing ink on every page, this book contains dozens of delightful surprises. Among them: a giant dog slumbering in a piano, a wishing puddle full of dimes, a raccoon that is actually a robot, and a camera that is secretly made of cheese.
About the Author
Jordan Crane publishes both his own and other people's comics through his press, Red Ink. He edited and designed the ambitious anthology NON (which won several AIGA 365 awards), and publishes his semi-regular solo comic Uptight through Fantagraphics. Crane currently resides in Los Angeles with his wife and two daughters.
Praise For Keep Our Secrets: To Be Read in a Whisper…
"This subversive book from comics artist Crane suggests that strange and sinister truths lurk just beneath the surface of everyday lifeand that children are best equipped to suss them out. Multiple hidden objects are concealed by heat-sensitive black ink on each spread, requiring vigorous rubbing to get them to emerge. A girl shares secrets with a boy as she shepherds him through a house where wobbly adult party guests chat, play instruments, and dance on furniture. Spilled cocktails, shoes, and other stray objects are strewn across the floor. 'One of Mr. Vesper's legs is a python,' the girl explains (rubbing the black ink makes the python appear), and 'the accordion's got three cats and a handful of forks in it.' It's all true. There's a creepy end-of-days feeling to the project, but kids and adults alike should appreciate the underlying message that you can find new secrets... but only if you listen... very... close.' All ages."
Publisher's Weekly, Children's Review

"Totally worth looking at again and again."
Very Short List

"Keep Our Secrets Is a magical book.... A blast, not only for the ink gimmick but also because Crane's illustration style is wonderful. You could read it straight through without vanishing any of the ink and it's a pretty cute book by itself. All of the hidden images are just the icing on the cake."
Wired.com's GeekDad

"Older readers will pick up on the subtext of two kids on their own trying to make sense of the confusing world of adults, but all ages will marvel at the clever drawings exposed beneath the disappearing ink."
Apartment Therapy

"I thought it would be hard to impress my [eight-year-old] son with the Keep Our Secrets board book... Oh, how I was wrong... it's definitely a book I'll be gifting to new parents."
Alphamom's "Must List"

During our first read of Keep Our Secrets, the number of times 'This is so cool' was uttered easily outnumbered the pages of this inventive board book... the effect is downright magical."
Takes a Village

While e-books may be turning all of our favorite childhood stories into animated pictures and text, the analog book is making a comeback [with] Keep Our Secrets."
A New Day's Work

[A] whimsical, unique book. Hidden behind the fun of discovering secret pictures is a lesson about careful observation and an absurdist commentary on the difference between outward appearance and innermost realities."
Buffalo News

"Keep Our Secrets by Jordan Crane, a printed book that incorporates a very cool technology.[An] amazing little book."
Yummy Mummy

New from McSweeney's/McMullen's comes a board book like no other, I guarantee it. Keep Our Secrets (to be read in a whisper) by Jordan Crane will be heralded by children everywhere as a magical' book.
Muse

"The novelty of this book has obvious kid-appeal but add to that the fun illustrations and you'll have kids wanting to uncover the secrets over and over again."
Babyology

A recommendation for parents on Media Darlings!

Featured on Daily Candy!


Praise for The Clouds Above:
"Crane's drawings are clean, yet full of nuance; his writing is playful and sharp. The artistry is in the detail." The New Yorker
or
Not Currently Available for Direct Purchase