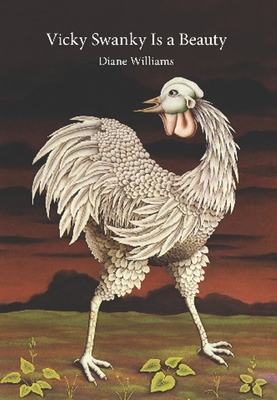 Vicky Swanky Is a Beauty (Hardcover)
McSweeney's, 9781936365715, 124pp.
Publication Date: January 17, 2012
Other Editions of This Title:
Paperback (11/13/2012)
* Individual store prices may vary.
Description
In Vicky Swanky Is a Beauty, Diane Williams lays bare the urgency and weariness that shape our lives in stories honed sharper than ever. With sentences auguring revelation and explosion, Williams's unsettling stories--a cryptic meeting between neighbors, a woman's sexual worries, a graveside discussion, a chimney on fire--are narrated with razor-sharp tongues and naked, uproarious irreverence. These fifty stories hum with tension, each one so taut that it threatens to snap and send the whole thing sprawling--the mess and desire, the absurdity and hilarity, the bruises and bleeding, the blushes and disappointments and secrets. An audacious, unruly tour de force, Vicky Swanky Is a Beauty cements Diane Williams' position as one of the best practitioners of the short form in literature today.

Praise For Vicky Swanky Is a Beauty…
"Let's hear it for the magnificent Diane Williams, one the wittiest and most exacting writers of our time. Her fictions are fervid endorsements of terrible, joyous life. But that's not quite right, because like all great literature, they are life. Well, you figure it out. All I know is that this book is an amazement, composed with a stricture that guarantees splendor."
Sam Lipsyte

"Diane Williams is one of the true living heroes of the American avant-garde. Her fiction makes very familiar things very, very weird."
Jonathan Franzen

"She is one of the very few contemporary prose writers who seem to be doing something independent, energetic, heartfelt."
Lydia Davis

"The uncanny has met its ideal delivery system: the stories of Diane Williams."
Ben Marcus

"These stories are the Giacometti walking man, the Cornell box, that extraordinary object born out of a genius for expressing the inner murmur of the mind. Each page is like throwing open the window in an electrical stormstrange sky, air full of voltage, and inside, a square of brave. Diane Williams is hilarious, brilliant, eccentric, powerful, and, luckily, ours."
Deb Olin Unferth

"Vicky Swanky Is a Beauty and Diane Williams is a genius. She is also a hero who resurrect(s) glee" in the face off with mortality. Her stories are sensationally complex; sorrow and hilarity, melancholy and wonder mingle, rendering this surpassingly winning collection, her seventh, quite extraordinary."
Christine Schutt

"Williams's book is populated with heartbreak, affairs, and death, and however mystifying passages can be, the author has a sly humor that cuts through everything else. Equal parts satisfying, mysterious, thoughtful, and quick."
Publisher's Weekly

"'Vicky Swanky' is Williams at her best, shaking us awake again to the persistent strangeness of human life."
Jenny Hendrix, The Boston Globe

"The shorts in Diane Williams's Vicky Swanky Is a Beauty (McSweeney's) emit an unsettling brilliance, becoming, on repeated readings, even stranger and more revelatory."
Vanity Fair

"To read these delightful stories is simply to drop in on random encounters as they are occurringtense, awkward, jokey, fraught."
The San Francisco Chronicle

"Even without the cameo appearances by the character 'Diane Williams,' it's unlikely that anyone who's attempted to tease apart a handful of Williams' stories will forget her linguistic precision, the ways she whittles sentences into solid gems, or her wonderfully strange way of seeing."
The Millions

"Dark, strange and revelatory"
Time Out New York

"True to her reputation, these are refined stories possessing many hallmarks of [Diane Williams's] past work: sharp dialogue fraught with tension, highly agile shifts in perspective, acerbic humour, and the ability to surprise without reducing the form too often to a gimmick or a stunt."
The National

"In Vicky Swanky Is a Beauty, we are reminded that Diane Williams is a brilliant writer and that there is absolutely nothing preordained in this world, which is sometimes a truly great thing."
Bomb
or
Not Currently Available for Direct Purchase