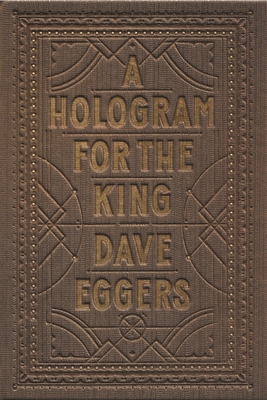 A Hologram for the King
Hardcover

* Individual store prices may vary.
Other Editions of This Title:
Digital Audiobook (5/6/2019)
Digital Audiobook (6/18/2012)
Paperback (6/4/2013)
Paperback (4/19/2016)
MP3 CD (6/23/2015)
Description
In a rising Saudi Arabian city, far from weary, recession-scarred America, a struggling businessman pursues a last-ditch attempt to stave off foreclosure, pay his daughter's college tuition, and finally do something great. In A Hologram for the King, Dave Eggers takes us around the world to show how one man fights to hold himself and his splintering family together in the face of the global economy's gale-force winds. This taut, richly layered, and elegiac novel is a powerful evocation of our contemporary moment -- and a moving story of how we got here.
Praise For A Hologram for the King…
Mr. Eggers uses a new, pared down, Hemingwayesque voice to recount his story... he demonstrates in Hologram that he is master of this more old-fashioned approach as much as he was a pioneering innovator with A Heartbreaking Work of Staggering Genius....[This] sad-funny-dreamlike story unfolds to become an allegory about the frustrations of middle-class America, about the woes unemployed workers and sidelined entrepreneurs have experienced in a newly globalized world in which jobs are being outsourced abroad.... A comic but deeply affecting tale about one man's travails that also provides a bright, digital snapshot of our times."
Michiko Kakutani, The New York Times

"A spare but moving elegy for the American century."Publishers Weekly

"Eggers can do fiction as well as he likes."Carolyn Kellogg, The Los Angeles Times

A potent, well-drawn portrait of one man's discovery of where his personal and professional selves split and connect."Kirkus Reviews

An extraordinary work of timely and provocative themes...This novel reminds us that above all, Eggers is a writer of books, and a writer of the highest order.An outstanding achievement in Eggers's already impressive career, and an essential read."Carmela Ciuraru, The San Francisco Chronicle

Eggers understands the pressures of American downward-mobility, and in the protagonist of his novel, Alan Clay, has created an Everyman, a post-modern Willy Loman.The novel operates on a grand and global scale, but it also is intimate."Elizabeth Taylor, The Chicago Tribune

Fascinating...Although Godot may be Hologram's philosophical source, Eggers is no Beckettian minimalist. The novel is paradoxically suspenseful, but it's also rich in character and in Eggers's evocative writing about placeA Hologram for the King, as far from home as it might seem, is an acute slice of American life."Colette Bancroft, Tampa Bay Times

"Dave Eggers is a prince among men when it comes to writing deeply felt, socially conscious books that meld reportage with fiction. While A Hologram for the King is fiction...it's a strike against the current state of global economic injustice."
Elissa Schappell,Vanity Fair

Completely engrossing."
Daniel Roberts, Fortune

A heartbreaking character study."Nick DiMartino, Shelf Awareness

Deft and darkly comicBeautifully enlivened by oddball encounters and oddball characters, by stranger-in-a-strange-land episodes."Steven Rea, The Philadelphia Inquirer

Eggers' spare prose is a pleasure, and A Hologram for the King proves to be a deft blend of surreal adventure, absurd comedy and pointed observations."Georgia Rowe, San Jose Mercury News

As the kingless days pass, Alan ventures from the tent and hotel into the rich, unsettling realities of the Kingdom, and Eggers ventures deeper into Alan, as well as into the question that has seemingly guided Eggers' work for years: What does it mean to be an American in a world that has places like the Sudan, Saudi Arabia, or post-Katrina New Orleans?"Alan Scherstuhl, San Francisco Weekly

[Hologram] has at its center a sort of moral vision quest... Alan's plight is endearing in its universality, even while being singularly his."Jonathan Messinger, Time Out Chicago

"Eggers has given us a work of fiction that works as a perfect commentary on this American decade."Jason Diamond, Vol.1 Brooklyn

The power of this thing sneaks up on youWhile Alan cools his heels, he bonds with memorably drawn locals; has some adventures that illuminate the tragicomedy that is globalism; and gets us meditating on what appears to be the theme: How can we all get over ourselves long enough to really, truly notice other people?" Jeff Giles, Entertainment Weekly

Eerie, suspenseful and tightly controlled Exciting stuff."Cynthia Macdonald, The Globe and Mail

Alan feels like Eggers's most fully-realized character to date A sad and beautiful story."John Freeman, The Boston Globe

[A] supremely readable parable of America in the global economy that is haunting, beautifully shaped and sad ... With ferocious energy and versatility, [Eggers] has been studying how the world is remaking America ... Eggers has developed an exceptional gift for opening up the lives of others so as to offer the story of globalism as it develops and, simultaneously, to unfold a much more archetypal tale of struggle and loneliness and drift."Pico Iyer, The New York Times Book Review
McSweeney's, 9781936365746, 328pp.
Publication Date: June 19, 2012
About the Author
Dave Eggers is the bestselling author of seven books including A Hologram for the King, a finalist for the National Book Award; Zeitoun, winner of the American Book Award and Dayton Literary Peace Prize; and What Is the What, which was a finalist for the National Book Critics Circle Award and won France's Prix Medici. In 2002, with Ninive Calegari he cofounded 826 Valencia, a nonprofit writing and tutoring center for youth in the Mission District of San Francisco. Local communities around the country have since opened sister 826 centers. Eggers lives in Northern California with his wife and two children.