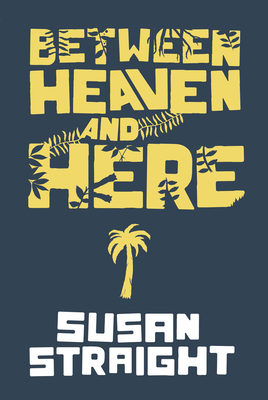 Between Heaven and Here
Hardcover

* Individual store prices may vary.
Other Editions of This Title:
Paperback (12/31/2013)
MP3 CD (7/12/2016)
Description
In August in Rio Seco, California, the ground is too hard to bury a body. But Glorette Picard is dead, and across the canal, out in the orange groves, they'll gather shovels and pickaxes and soak the dirt until they can lay her coffin down. First, someone needs to find her son Victor, who memorizes SAT words to avoid the guys selling rock, and someone needs to tell her uncle Enrique, who will be the one to hunt down her killer, and someone needs to brush out her perfect crown of hair and paint her cracked toenails. As the residents of this dry-creek town prepare to bury their own, it becomes clear that Glorette's life and death are deeply entangled with the dark history of the city and the untouchable beauty that, finally, killed her.

Praise For Between Heaven and Here…
"It is only the rarest of novels that cry for a sequel, the most unusual of stories that at once satisfies and leaves the reader aching for more. Susan Straight's remarkable Take One Candle Light A Room is such a novel. And she has satisfied our desires in Between Heaven and Here, a magnificent novel, that manages to be at once unflinchingly real and transcendently beautiful. Susan Straight is one of the very best American writers. If you haven't read her, you're in for a delight and an awakening. If you have, then you're probably as thrilled as I am that she has taken us back to Rio Seco."
Ayelet Waldman

"Susan Straight finds LA's secret heart in Between Heaven and Here and with a sleight of hand only the masters have, she creates an alley, a neighborhood, a history that is as rich and tragic as any Shakespearean tale."
Walter Mosley

"Straight employs glorious language and a riveting eye for detail to create a fully realized, totally believable world."
Kirkus (Starred Review)

"Straight plunges readers into a whirlwind of dialects, drugs, derelict homes, and delinquent locals as she weaves together the story of Glorette's life and death, while addressing weighty and timely issues like race, language, and the socioeconomically disenfranchised. Straight deftly avoids clichés and easy outs, and her refusal to vilify or sanctify the numerous members of her cast allows the experiences of each to resonate powerfully."
Publishers Weekly (Starred Review)

"Straight, a 2001 National Book Award finalist for Highwire Moon, has the ability to create straightforward contemporary voices, no pun intended. She does not subscribe to the maximalist school of over-the-top characters, yet she can still dramatize the complex, jagged nature of American culture today."
The Daily Beast

"Susan Straight has remarkable range as a writer. Her voice can be elegant in the rhythms and vocabulary of her narrative, yet also blunt and raw in dialogue... Her work is so intensely alive in its movement, action, and in the speech of her characters that reading it is almost like being caught in the center of a storm: exhausting but exhilarating at the same time."
The Rumpus

"How can a novel that is essentially the story of a dead prostitute prove so uplifting? It must be some kind of black magic that only Susan Straight can work . . . And by the end of this gorgeous and heart-wrenching novel, this family will be your people, too."
The Dallas Morning News
McSweeney's, 9781936365753, 208pp.
Publication Date: September 12, 2012
About the Author
Susan Straight's new novel, Between Heaven and Here, is the final book in the Rio Seco trilogy. Take One Candle Light a Room was named one of the best novels of 2010 by The Washington Post, The Los Angeles Times and Kirkus, and A Million Nightingales was a 2006 Finalist for the Los Angeles Times Book Prize. Her novel Highwire Moon was a Finalist for the 2001 National Book Award. Her short story The Golden Gopher won the 2008 Edgar Award for Best Mystery Story. She has published stories and essays in The New York Times, The Los Angeles Times, Harpers, McSweeney's, The Believer, Salon, Zoetrope, Black Clock, and elsewhere. She is Distinguished Professor of Creative Writing at UCRiverside. She was born in Riverside, California, where she lives with her family, whose history is featured on susanstraight.com.