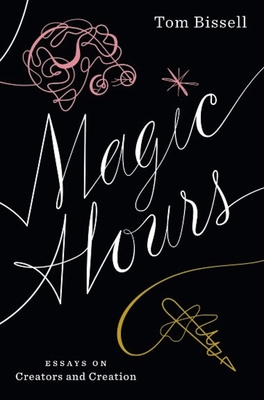 Magic Hours
Essays on Creators and Creation
Paperback

* Individual store prices may vary.
Other Editions of This Title:
Digital Audiobook (3/19/2018)
Paperback (3/20/2018)
Description
In Magic Hours, award-winning essayist Tom Bissell explores the highs and lows of the creative process. He takes us from the set of The Big Bang Theory to the first novel of Ernest Hemingway to the final work of David Foster Wallace; from the films of Werner Herzog to the film of Tommy Wiseau to the editorial meeting in which Paula Fox's work was relaunched into the world. Originally published in magazines such as The Believer, The New Yorker, and Harper's, these essays represent ten years of Bissell's best writing on every aspect of creation--be it Iraq War documentaries or video-game character voices--and will provoke as much thought as they do laughter. What are sitcoms for exactly? Can art be both bad and genius? Why do some books survive and others vanish? Bissell's exploration of these questions make for gripping, unforgettable reading.

Praise For Magic Hours: Essays on Creators and Creation…
Tom Bissell is at his best in this terrific collection."Geoff Dyer

"Every one of Bissell's pieces is like some great, transfixing documentary you stumble on while channel-surfing late at nightsomething you feel, in that moment, a kind of gratitude toward for redeeming your sleeplessness. Considered alongside his fiction, this new collection makes clear that Tom Bissell is one of our most interesting and ambitious writers."
John Jeremiah Sullivan, author of Pulphead

"In essays spanning a decade, many previously published in Harper's and the Believer, Bissell (Extra Lives) peels back the layers of what it means to create and the toll creation often takes on its practitioners. While writers and writing are by no means his only subjects, Bissell is particularly astute when it comes to the arbitrary nature of literary fame. In Unflowered Aloes" and Grief and the Outsider," he considers the longevity of literary fame, and of works by the likes of Walt Whitman, Emily Dickinson, and Herman Melville that originally met with withering scorn. Bissell turns to the screenand his tiny hometown of Escanaba, Mich.in Escanaba's Magic Hour," narrating both the evolution of a film shoot by Movie People" (as outsiders, a common theme in the collection) and Bissell's own relationship with the town of his birth. Documentary film is explored in Rules of Engagement," where the act of creating a compelling storyhere documentaries depicting the Iraq waris an exercise in both truth and fiction. Never pedantic or self-congratulatory, Bissell says that he never set out to write nonfiction, and perhaps it's this backdoor approach that makes his observations on craft and the many avenues that lead to the written word all the more powerful."
Publisher's Weekly (Starred Review)

"A whip-smart, occasionally pugnacious collection of essays on culture from a wide-ranging critic.

In recent years Bissell (Extra Lives: Why Video Games Matter, 2010, etc.) has built a reputation as an expert on video games, culminating with the scattershot Extra Lives. Here he covers a wider swath but provides more coherence, in part because a more consistent theme emerges: the necessity of calling shenanigans on the artificiality of much of mass culture, and the difficult search for glimmers of integrity. In 'Escanaba's Magic Hour,' Bissell follows the filming of an indie movie in his hardscrabble Upper Peninsula hometown and cannily reveals subtle parrying between the townsfolk and the visiting filmmakers. In 'Writing about Writing about Writing,' he demolishes the rhetoric of how-to writing guides, slapping the genre for its disingenuously upbeat declarations. In 'Cinema Crudité,' he investigates the anti-genius of Tommy Wiseau, director of the contemporary camp classic, The Room. Bissell can tear into his subjects with a ferocity and brutal wit that recalls Dwight Macdonald, as when he writes about the would-be literary provocateurs of the Underground Literary Alliance or celebrated historian Robert Kaplan, whom he damns as an 'incompetent thinker and a miserable writer.' Bissell's more common tone, though, is that of the exasperated critic weary of conventional thinking, and he bookends the collection with pieces that drive that point home: 'Unflowered Aloes' debunks the idea that literary greatness will always be discovered, and the closing interview with Jim Harrison is a lament for a dying working-class literary culture. Even the book's weak spots are strong: A pair of New Yorker profiles on TV and video-game professionals feel relatively voicelessa problem with the magazine's house style that, ironically enough, Bissell calls out in an earlier essay.

Stellar cultural writingBissell has the knowledge and wit to earn his provocations."
Kirkus (Starred Review)

"Sharply observed, lushly descriptive and often extremely funny."
Salon

"Bissell writes astutely, smartly, and with acerbic candor."
The Boston Globe

"A highly gratifying literary experience."
Los Angeles Review of Books

"Elating."
Guernica

"Bissell's essays are brutally honest, thoughtful and entertaining to the nth degree."
Portland Book Review

"Entertaining, informative and exquisitely readable."
Shelf Awareness

"Full of beauty."
The Cleveland Plain Dealer

"[Tom Bissell] writes these essays with a storyteller's eye for detail."
New York Times Book Review



Praise for Extra Lives
"A master prose stylist, the erudite Bissell is frequently insightful."
Boston Globe
McSweeney's Books, 9781936365760, 256pp.
Publication Date: April 3, 2012
About the Author
Tom Bissell is the author of "Extra Lives," "Chasing the Sea," "God Lives in St. Petersburg," and "The Father of All Things." A recipient of the Rome Prize, a Guggenheim Fellowship, and the Bay de Noc Community College Alumnus of the Year Award. He teaches fiction writing at Portland State University and lives in Portland, Oregon.
or
Not Currently Available for Direct Purchase