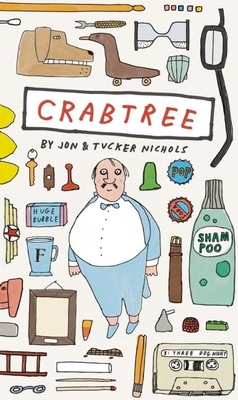 Crabtree (Hardcover)
McSweeney's McMullens, 9781936365821, 32pp.
Publication Date: November 19, 2013
* Individual store prices may vary.
Description
Alfred Crabtree has lost his false teeth. But don't worry, he'll find them if he can just get his things organized Alfred's world is cluttered with surprising objects. Some are very uncommon, and some are probably not where they ought to be. There are a lot of pencils and small yapping dogs. There's a squeeze bottle of mustard, a plunger, a rubber band or two, a few very fancy hats, and a group portrait of sea monsters. There's an old cassette tape, a swizzle stick, a bicycle pump, and an armadillo shell. Join Alfred on a romp through his far too many possessions and you'll end up learning more about him than he knows about himself. And maybe he'll find his teeth in all that stuff
About the Author
Jon and Tucker Nichols are brothers. They have always liked making things together, from blueberry pies to strange games involving balls and pine cones. These days they live in Northern California, where Jon plays music and Tucker shows his artwork at galleries and museums around the world. "Crabtree" is their first book for kids. Jon made most of the words. Tucker made most of the drawings.
Praise For Crabtree…
"This book is fantastic in every way."
Maira Kalman

"There are so many great things in this book. If you like great things, this is the book for you."
Jon Klassen

"An epic tale is hiding among Crabtree's possessions, and the search for a single object takes on cosmic meaning. Highly recommended."
Patton Oswalt

"I have many, many copies of this book in different rooms in my home as part of an ongoing collection of books I like very much all kept in separate rooms for organizational purposes."
Lemony Snicket

"A terrific debut! I was completely tickled by this book. Bravo Jon and Tucker Nichols!"
Jon Agee

"A light-hearted meditation on how we are defined by our possessions, delivered with that trademark McSweeney's flair."
The Atlantic Wire

"Witty... [Alfred Crabtree] really has a lot of stuff."
Kirkus

"Witty and weirdly absorbing."
One Potato

Like a Richard Scarry word book gone bonkers The oversized pages include little funny things throughout, and my kids couldn't stop giggling."
Jonathan H. Liu, GeekDad

"Like all McSweeney's McMullens' books, Crabtree is a marvel of craftsmanship, gorgeous and packed with witty images and text."
San Francisco Chronicle

"Crabtree is mesmerizing and ridiculous in the most perfect way."
Coolmompicks.com

"We giggle together and discover something new every time we read it."
What Wee Read

"Exactly like pawing through someone's closet, with none of the embarrassment." For Immediate Release Reviews
or
Not Currently Available for Direct Purchase