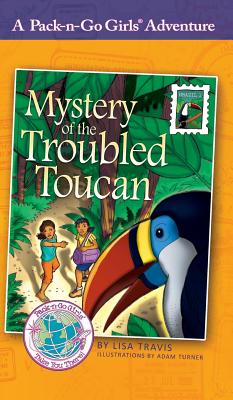 Mystery of the Troubled Toucan (Hardcover)
Brazil 1 (Pack-N-Go Girls Adventures #6)
Worldtrek Publishing, 9781936376414, 128pp.
Publication Date: May 15, 2017
Other Editions of This Title:
Paperback (11/19/2015)
* Individual store prices may vary.
Description
Welcome to Brazil
Nine-year-old Sofia Diaz's world is coming apart. So is the rickety old boat that carries her far up the Rio Negro river in Brazil. Crocodiles swim in the dark waters. Spiders scurry up the twisted tree trunks. And a crazy toucan screeches a warning. It chases Sofia and J lia, her new friend, deep into the steamy rainforest. There they stumble upon a shocking discovery.
2017 Literary Classics Gold - Best Series - Young Reader
2017 Moonbeam Children's Book Award Silver - Best Chapter Book Series
2014 Moonbeam Children's Book Award Gold - Best Chapter Book Series
About Pack-n-Go Girls
Designed by girls for girls who love to play and travel, Pack-n-Go Girls engages the imagination of children ages 6-9 by introducing them to different countries around the world. Pack-n-Go Girls early chapter book adventures are packed with spooky mysteries, international friendships, and lots of fun and easy multicultural learning. Check out the Pack-n-Go Girls website for more learning fun and FREE learning activities: www.packngogirls.com