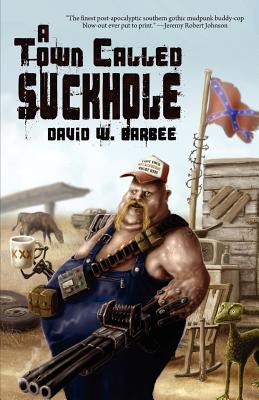 A Town Called Suckhole (Paperback)
Eraserhead Press, 9781936383870, 144pp.
Publication Date: September 1, 2011
* Individual store prices may vary.
Description
Blade Runner meets Sling Blade in the weirdest Southern Gothic ever. Far into the future, in the nuclear bowels of post-apocalyptic Dixie, there is a town. A town of derelict mobile homes, ancient junk, and mutant wildlife. A town of slack jawed rednecks who bask in the splendors of moonshine and mud boggin'. A town dedicated to the bloody and demented legacy of the Old South. A TOWN CALLED SUCKHOLE But all is not well for the last remnant of hillbilly society. Suckhole's annual "Hell-Yeah Heritage Jamboree" is suddenly threatened by a string of gruesome murders. The town's sheriff, an illiterate yokel with a cleft pallet, is at his extremely limited wit's end, and he knows there is only one man smart enough to solve the mystery: Dexter Spikes, a monstrous missing link between swamp and man brought to life by natural evolution. He lives in the swamps alone, shunned by the simple townsfolk of Suckhole who don't believe in the wicked sciencery of his existence. If Dexter takes the sheriff's case, he'll have to face the undead culprits behind the murders, who are determined to bring about the next apocalypse. If he refuses the job, the town will be doomed to a vicious slaughter. "A Town Called Suckhole is the finest post-apocalyptic southern gothic mudpunk buddy-cop blow-out ever put to print. Which is to say this mutant motherfucker of a debut novel lands with serious world-inventing swagger and marks David W Barbee as a go-to Bizarro writer for outrageously over-the-top action, big laughs and surprising heart." -JEREMY ROBERT JOHNSON, author of We Live Inside You and Angel Dust Apocalypse "With the manic intensity of a tent revival on fire and the stupefying mendacity of a snake oil peddler on peyote, Barbee builds a rich, grimy world so steeped in rampaging Confederate id that for long stretches, I could not see it clearly through my red, blinding rage at not having written it, myself." -CODY GOODFELLOW, author of Perfect Union.