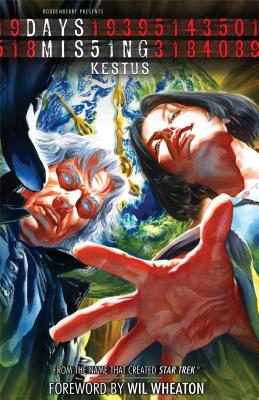 Days Missing, Volume 2: Kestus (Hardcover)
Kestus
Archaia Entertainment, 9781936393107, 144pp.
Publication Date: August 9, 2011
* Individual store prices may vary.
or
Not Currently Available for Direct Purchase
Description
Archaia and Roddenberry Productions are proud to present the thrilling sequel to the critically acclaimed series Days Missing. Days Missing: Kestus continues the saga of The Steward, a mysterious being whose ability to "fold" days of time has resulted in critical human events being absent from our historical record. Their existence is not remembered...but the occurrences of these days have forever changed the course of our evolution. Since humanity's birth, The Steward has stood as a guiding force for our species. But now, he is not alone The emergence of the ancient being, Kestus, may put everything he knows in question, and the future of those he means to protect in jeopardy. Days Missing: Kestus spans the ages, featuring adventures about ancient China, the burning of Egypt's Alexandria, the 1969 moon launch, Y2K, and the Large Hadron Collider.
About the Author
Phil Hester is an American comic book artist, penciller and writer. Hester's pencilling credits include Swamp Thing, Brave New World, Flinch, Ultimate Marvel Team-Up, Clerks: The Lost Scene, The Crow: Waking Nightmares, The Wretch (nominated for the 1997 Eisner Award for Best New Series), Aliens: Purge, and Green Arrow. During his run on Green Arrow, he created the characters Mia Dearden and Onomatopoeia with writer Kevin Smith as well as Constantine Drakon with writer Judd Winick. Hester co-created Uncle Slam and Firedog with his Green Arrow collaborator, artist Ande Parks. He also created El Diablo, a new character (with a common name in DC Comics) who debuted in an eponymous limited series.[2] His last comic 13 Steps will adapted in a Comedy Horror film.[3] Hester is currently writing the new adventures of Golden Age hero The Black Terror for Dynamite Entertainment, based on plot ideas by Alex Ross, as part of the Project Superpowers Universe.
Advertisement