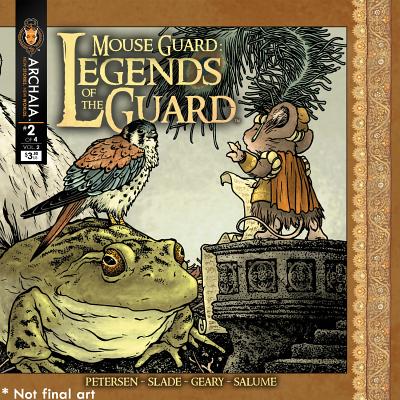 Mouse Guard (Hardcover)
Legends of the Guard Volume 2
Archaia, 9781936393268, 144pp.
Publication Date: December 17, 2013
Other Editions of This Title:
Hardcover (11/23/2010)
Hardcover (11/15/2016)
* Individual store prices may vary.
Description
Inside the June Alley Inn, located in the western mouse city of Barkstone, mice gather to tell tales, each trying to outdo the other. A competition, of sorts, begins. The rules: Every story must contain one truth, one lie, and have never been told in that tavern before. With the winner getting his bar tab cleared, fantastic stories are spun throughout the evening! Mouse Guard: Legends of the Guard collects the second volume of Legends of the Guard, a new Mouse Guard anthology series featuring the work of artists and storytellers handpicked by series creator David Petersen.
About the Author
David Petersen was born in 1977. His artistic career soon followed. A steady diet of cartoons, comics and tree climbing fed his imagination and is what still inspires his work today. David was the 2007 Russ Manning Award recipient for Most Promising Newcomer, and in 2008 won Eisner Awards for Best Publication for Kids (Mouse Guard: Fall 1152 & Winter 1152) and Best Graphic Album – Reprint (Mouse Guard: Fall 1152 Hardcover). He received his BFA in Printmaking from Eastern Michigan University where he met his wife Julia. They continue to reside in Michigan with their dog Autumn